Columbia State Community College students Annaleisa Matzirakis, Rodney Bakken II, Lake Bates, Reese Harrub, Jaeden Kennedy and Lydia Knobloch recently participated in the Tennessee Intercollegiate State Legislature 53rd General Assembly.
"I truly believe that the TISL experience provided me and my fellow delegates with valuable insight on how our government works and how elaborate our legislative processes really are," said Annaleisa Matzirakis, Columbia State student.
The annual TISL General Assembly is a four-day conclave of engaged and policy-minded college students from across the state at the Historic Tennessee State Capitol in Downtown Nashville. Typically, more than 400 students attend from more than 40 colleges and universities, representing more than 95% of Tennessee college students.
The TISL is a forum for students to exchange ideas, express their opinions and learn how government works. TISL's Senate and House of Representatives, which first convened in 1966, meet in the legislative chambers of the State Capitol each November.
"I would say that TISL helped me discover that there were lots of other students like me, who were interested in the workings of government and what it could do," said Reese Harrub, Columbia State student. "It taught me about the mechanics of doing things like writing bills, working with committees, and voting on them. And it taught me how to better understand the other side of an issue, so that I can understand someone's position while still disagreeing with them, which is incredibly important. TISL was a blast, and I'm thankful I got to attend."
Students in attendance included Franklin resident Annaleisa Matzirakis serving as editor/reporter, media still photographer; Smyrna resident Rodney Bakken II serving as House of Representative, standing committee commerce and labor; Centerville resident Lake Bates serving as lobbyist, lobbying firm business TN; Franklin resident Reese Harrub serving as House of Representative, standing committee broadcast; Chapel Hill resident Jaeden Kennedy serving as senator, standing committee general health & wellness; and Brentwood resident Lydia Knobloch serving as House of Representative, standing committee state and local government II.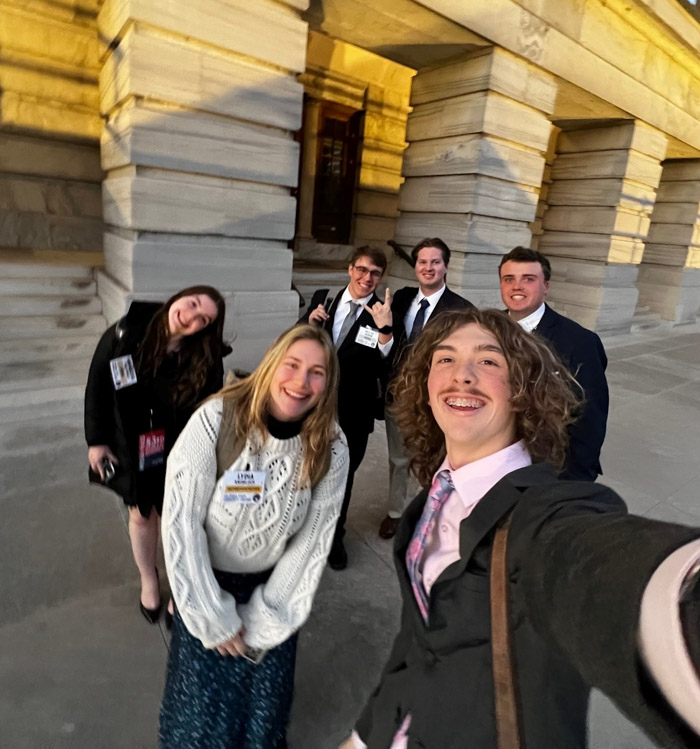 "I was able to be one of the House of Representatives at TISL," said Lydia Knobloch, Columbia State student. "I learned so much about how our government works and expanded my legislative knowledge at this immersive mock trial experience. At TISL I wrote and presented bills, as well as voted on other fellow delegates bills. Throughout the weekend I met various people from different backgrounds—all that had different perspectives that helped me better understand other people's worldviews. Something that is truly unique about TISL is that even though everyone has different beliefs, everyone respects each other even if they disagree. TISL was not only an extremely rewarding experience but has guided me towards what I want to do in my future, and for that I'm truly grateful."
Out of 26 schools in attendance, Columbia State was one of three community colleges in attendance. All students researched and submitted bills and resolutions with subjects such as banning billboards in the state of Tennessee, making changes to require a person to hold a valid TN Auctioneers License to conduct an online auction and making the Moon Pie the official dessert of the state of Tennessee. Columbia State had representation in the legislative, lobbying and media components of TISL.
At the closing of the joint session, Columbia State student Jaeden Kennedy was awarded   the Outstanding Senator award.
"TISL was one for the books," said Kennedy. "It was so incredible meeting everyone at TISL and the relationships made will forever be cherished! I am beyond honored to have been recognized as Outstanding Senator. I cannot wait to see you all next year!"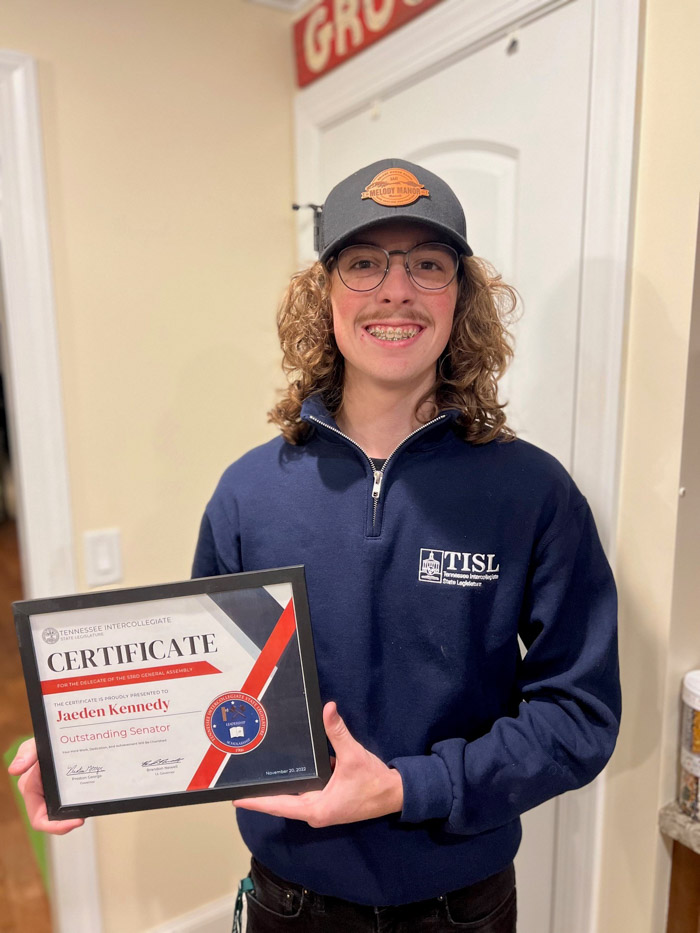 For more information about the Tennessee Intercollegiate State Legislature, visit www.tislonline.org.
For more information on the Columbia State Student Government Association, visit www.ColumbiaState.edu/SGA.