Columbia State Community College's Pryor Art Gallery will feature a family and sports event with the "Art of the Buzz" exhibit in conjunction with Chris LeMay's National Electric Football Game Museum in Spring Hill. The exhibit will be open to the public from January 9 until March 3.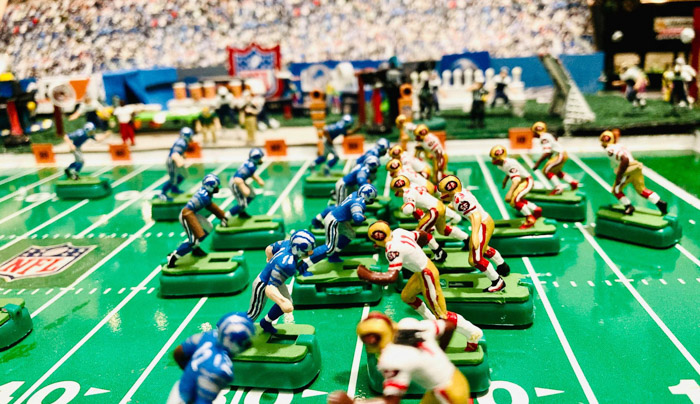 "When Chris LeMay, president and treasurer of The National Electric Football Game Museum, visited the Pryor Art Gallery and told me about his museum, my eyes opened wide and I said, 'I remember playing that with my older brother in the 1970s!'" stated Lisa Hoffman, Pryor Art Gallery curator. "This began a wonderful collaboration to bring this nostalgic, yet contemporary game's history to Pryor Art Gallery as LeMay's introductory exhibition of NEFGM."
The National Electric Football Game Museum is a 501(c)(3) nonprofit organization with the specific purpose of educating the public about the game of Electric Football. The Electric Football Game was invented by Norman Sas in 1948, and in 1967 he signed a deal with the National Football League to include names of players and team colors on the tiny plastic figures. More than 40 million games have sold. Art of the Buzz will exhibit vintage and collectible games by Tudor and Gotham, the early history of the game, current Tudor games, the Electric Football community, national tournaments and even have a Titans/Oilers and Kats section. The Art of Electric Football is a serious matter for many artists who spend hours customizing NFL teams and players throughout football history.
The exhibit will feature the works of Kerry Woo, a season three LEGO Masters contestant and Nashville photographer who has worked for Google and other clients creating 360 virtual tours. Woo's architectural photography business translated to Lego competitions, and he won three first place categories at the Nashville Public Library's 10th Annual LEGO Contest. His creations include a Nashville cityscape to include the "Batman" building, 505 Nashville building and a football stadium which will be on display for the Art of the Buzz exhibition.
Ron Mango, an artist and solitaire coach from Murfreesboro, will also be featured. Mango began playing electric football at the age of 12 in 1977 with three teams—the Chiefs, Browns and Packers. Since then, he has continued to play a solitaire league that is in its 87th Season with all 32 NFL teams. He completely hand paints all his teams—the helmet logos, uniform stripes and numerals. In addition, we have on display, a loan from Glenn Mishoe, Project Coordinator for The EF Heisman Project from Charleston, SC. Mr. Mishoe coordinator with several top electric football figure artists to hand paint the EF Heisman winners from 1935 – 2021. Also available are hand painted electric football figure Heisman winners from Glenn Mishoe, Project Coordinator at EF Heisman Project in Charleston, South Carolina.
The opening reception, which is free and open to the public, will be January 19 from 5 - 7 p.m. Featured artist Woo will be speaking about the LEGO football stadium he built for the museum. There will also be an artist demonstration by Mango highlighting the art involved in hand painting the football figures. Children will have the opportunity to play electric football games. Participants in the tournament can create a team to play, and the winner will receive an Electric Football Game from Tudor Games, as well as a custom trophy created by the National Electric Football Game Museum.
"The 'buzz' around this game has been resonating with gallery guests, faculty, employees and students," Hoffman said. "This game is a part of Americana and many of us remember opening it at Christmas or playing it during football season with our parents, cousins and siblings! The Art of the Buzz lives on in the artistry and community of those who caught the electric football game fever."
The exhibit is free and open to the public. The Pryor Art Gallery is in the Waymon L. Hickman Building on the Columbia Campus located at 1665 Hampshire Pike and is open Monday-Friday, 8 a.m. - 7 p.m.
For additional information about this exhibit, please visit www.ColumbiaState.edu/PryorGallery or on Facebook at ColumbiaStatePAG.
For more information about the Pryor Art Gallery, contact Hoffman at 931.540.2883 or lhoffman5@ColumbiaState.edu.