Nov 05, 2018
Pryor Art Gallery Hosts Tennessee Watercolor Society Juried Exhibition
(COLUMBIA, Tenn. - Nov. 5, 2018) - - - Columbia State Community College's Pryor Art Gallery will host "Wonders of Water Media," a juried exhibition featuring Region II - Nashville, of the Tennessee Watercolor Society Nov. 23 - Jan. 3. An artists' reception will be held Dec. 6 from 5 - 8 p.m.
The exhibit will illustrate the skills of the artists as well as the transparency of the medium ranging from realism to abstract.
"We are so pleased to celebrate the inspired works of these very accomplished watercolorists," said Michele Wilkinson, Pryor Art Gallery curator. "The Tennessee Watercolor Society is stretching its boundaries while remaining true to its mission of promoting an appreciation of watercolor and water media to include any aqueous media applied to paper. They strive to have exciting exhibitions that have versatility and innovation in both traditional and cutting-edge water media paintings."
"Wonders of Water Media" will feature 26 award-winning paintings from 20 artists who are members of the TnWS Nashville region. Wilkinson juried the exhibit with Coco Dauer, TnWS signature member and Lawrenceburg resident.
"It's exciting to be invited back to the beautiful venue of Pryor Art Gallery to show the quality of work that Region II artists exemplify," Dauer said.
Active since 1971, the Tennessee Watercolor Society is a membership organization dedicated to elevating the stature of watercolor painting and to educating the public about the significance of the art form as an important, creative and permanent medium. A 501(c)(3) organization, the TnWS is open to residents of Tennessee (18 years and older) and to individuals who live or work in greater metropolitan areas bordering Tennessee's state line. Learn more about the Tennessee Watercolor Society at www.tnws.org.
The exhibit is free and open to the public. The Pryor Art Gallery is in the Waymon L. Hickman Building on the Columbia Campus located at 1665 Hampshire Pike. For additional information about this exhibit, please visit www.ColumbiaState.edu/PryorGallery. For more information about the Pryor Art Gallery, contact Michele Wilkinson at 931.540.2883 or mwilknson2@columbiastate.edu.

Photo Caption: "Shift Change at the Station" by Todd Saal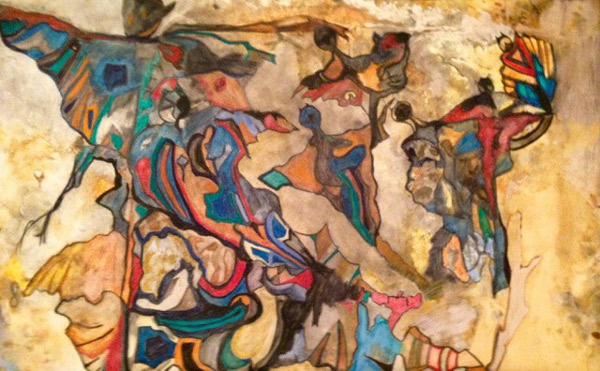 Photo Caption: "Native American Bat Dance" by Jan Batts

Photo Caption: "Sea Oats" by Donna Littleton

Photo Caption:
"Pulse" by Kathleen Haynes