Oct 29, 2018
STEM GiRLS Event Inspires 200

Photo Caption: Approximately 200 middle school girls attended the 2018 Columbia State STEM GiRLS event.


(COLUMBIA, Tenn. - Oct. 29, 2018) - - - Columbia State Community College held its fourth science, technology, engineering and mathematics "Girls Really Love Science" event, which promoted the success of girls in STEM careers by engaging approximately 200 middle school girls in multiple hands-on activities.
The event focused on various paths of study and career opportunities available to women in STEM fields - attendees got a closer look into various professions as they begin to think about their futures.
"Our goal is to promote STEM related fields to young girls - we wanted to demonstrate that they can be happy and successful in these highly demanded, technical areas and beyond," said Andrew Wright, STEM GiRLS director and Columbia State interim dean of the Science, Technology and Mathematics Division.
Natalie Martin, Columbia State alumna and Territory Manager for STALITE Lightweight Aggregates, kicked off the event at the opening presentation and inspired the girls to pursue their dreams.
The one-day event featured workshops that engaged participants in different types of educational, interactive hands-on activities that involved agricultural science, biology, chemistry, computer science, engineering, math, physics and other applied sciences.
Activities included building a self-sustaining ecosystem, cow eyeball dissection, crime scene investigation, hologram building, a make-your-own makeup session, a virtual reality experience and a variety of other STEM-based workshops.
"The activities have been enjoyable," said Mayson Riles, 6th grade student at Freedom Middle School. "The work has been hard, but when you finish it you feel rewarded and you can look back and say 'wow I did that.' To girls thinking about signing up for the next STEM GiRLS, I say do it - you get to learn about multiple different fields and get different information you can use for later. It's just very fun and educational."
Dr. Heather J. Brown, Middle Tennessee State University School of Concrete and Construction Management department chair and professor, was this year's keynote speaker. Her experience includes five years of material testing and research for the Tennessee Department of Transportation and authoring and co-authoring more than 30 papers on several topics relating to concrete construction. Brown talked to the girls about her life experiences that led up to her majoring in a STEM field. She told the girls to support their friends, learn how to be resilient, learn how to handle stress, and to understand that life won't always be easy and to trust the future. Brown explained that life is like a superhighway and that while life choices might not always align with your path, you can always find your way back.
"You're going to have all of these crazy moments in your life and you don't know if you are going to be able to put school, sports, friends and family in a single direction and feel good about it - you don't have to," Brown said. "You don't have to always feel that things are completely in line - there are crazy exits all around your pathway and it works - it will work."
A complementary adult session was also provided to show insight on how to encourage and guide young women that take interest in STEM classes and careers.
"With the leadership of Columbia State faculty, staff and industry professionals, the girls were exposed to many fun and engaging activities showcasing STEM fields that are in high demand," Wright said. "Most of the workshops were facilitated by female educators and professionals who showed the students that you can be a female and be excellent in this field. We couldn't have asked for a better day with the girls."
On an empowering note during the closing ceremony, Dr. Desireé Kelly spoke to the girls about gender imbalances and the stigma associated with young females in STEM careers. She offered tips for the students to cope with stress related to STEM education and achieve their goals in pursuing STEM paths and careers. Dr. Kelly is an "Erasing the Stigma Coordinator" for Mental Health America of the MidSouth.
STEM GiRLS was sponsored by the General Motors family, including Spring Hill GM Manufacturing, Lucas Chevrolet and Parks Motor Sales, along with Listerhill Credit Union, Columbia Power and Water Systems, the Tennessee Valley Authority and Mount Pleasant Water Systems.
Girls in attendance included students from various schools in Giles, Hickman, Lawrence, Lewis, Marshall, Maury, Perry, Wayne and Williamson Counties.
For a look at the photos from this year's STEM GiRLS, visit https://www.flickr.com/photos/columbiastatecc/sets/72157674920524018

Photo Caption: Keynote speaker, Dr. Heather J. Brown, Middle Tennessee State University School of Concrete and Construction Management department chair and professor.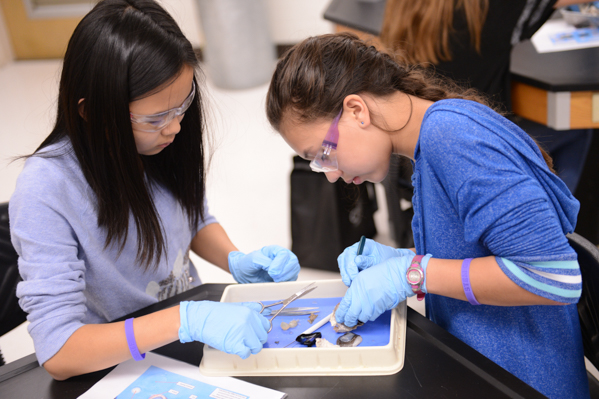 Photo Caption: STEM GiRLS attendees dissect a cow eyeball.

Photo Caption: Mayson Riles, 6th grade student from Freedom Middle School, at the 2018 STEM GiRLS event.

Photo Caption: STEM GiRLS attendee conducts flame test.