Jul 20, 2018
Pryor Art Gallery announces Reflective Conversations exhibit

Photo Caption: "The Gift" by Michael Bush.


(COLUMBIA, Tenn. - July 20, 2018) - - - Columbia State Community College's Pryor Art Gallery will host the "Reflective Conversations" exhibit Aug. 2 - Sept. 6. An artists' reception will be held Aug. 9 from 5 - 8 p.m.
Artist W. Michael Bush showcased his "Mirror on America," exhibit at the Pryor Art Gallery in 2017; "Reflective Conversations" is a continuation of this series.
"Our students, faculty and staff responded to the exhibit last year due to the provoking subject matter that created valuable dialogue of issues that some, or all of us, live with every day," said Michele Wilkinson, Pryor Art Gallery curator. "Art is supposed to evoke thought resulting in communication and possible change and we see that in Bush's exhibits."
"The mixed media exhibit is made up of many dimensional vignettes of political or social issues," Bush said. "The piece of trash on the floor just may be part of one of those vignettes. The subject matter is not for those without an opinion… if not they will after witnessing this show. Current issues covered are suicide, domestic violence, immigration and exclusions due to gender, race and more. Another real and sensitive issue, that was suggested by a student, is death by texting while driving. All of this was created to make one think and possibly make a difference in one person's life."
Bush spent 20 years as a scenic artist in several feature films and TV productions. Currently, he is exhibiting his work in several galleries across the southeast. Bush is now working on the third installation to the series, "Looking Glass Lessons."
Bush earned a Bachelor's of Fine Art degree from Ringling College of Art and Design, and a Master's of Fine Art degree from the Institute of Fine Art in San Miguel de Allende, Mexico.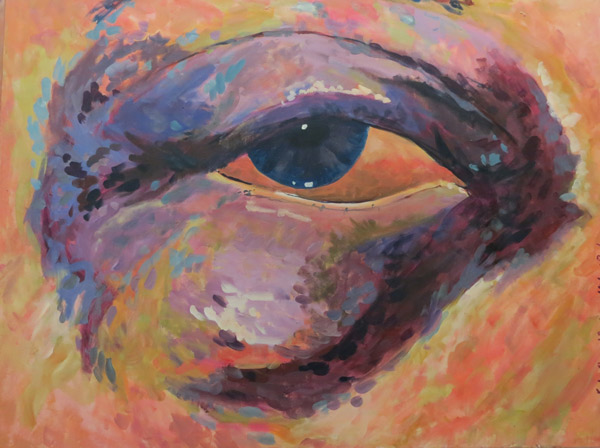 Photo Caption: "50 Shades of Purple" by Michael Bush.

Photo Caption: "Girls Keep Out" by Michael Bush.