May 03, 2018
Columbia State Places Third in National Community College Survey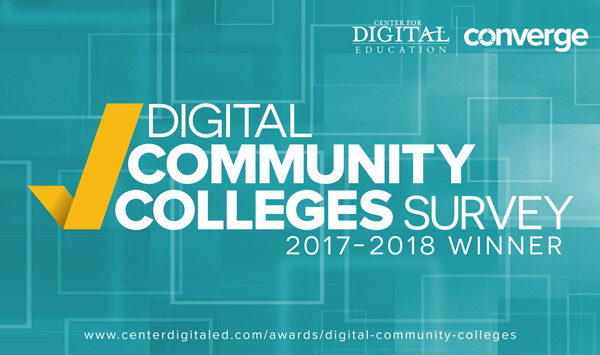 (COLUMBIA, Tenn. - May 3, 2018) - - - Columbia State Community College was recently recognized by the Center for Digital Education as a third place winner of their 2017-2018 Digital Community Colleges Survey, an award honoring community colleges for their efforts using technology to deliver curriculum and improve services offered.
Now in its thirteenth year, the survey is used to highlight community colleges who demonstrate innovative uses of technology to improve services to students, faculty, staff and the surrounding communities. The technologies analyzed include online courses and mobile environments, mobile applications, secure platforms and wireless networks.
Columbia State placed third overall in the CDE's Mid-sized Colleges Category, which encompasses all accredited community colleges nationwide with enrollment of 5,000 - 10,000 students. This is the third year that Columbia State has placed in the top 10.
Community colleges in the Tennessee Board of Regents system were well represented this year with Walters and Pellissippi State also being named in the top 10 in their categories.
"There are many groups and individuals at Columbia State responsible for these achievements in the effective use of technology," said Dr. Emily Siciensky, Columbia State Associate Vice President of Information Technology. "Faculty, staff and college leadership have contributed to our success in moving technology initiatives forward."
Siciensky explained that Columbia State was chosen for the award for continuing to provide digital course content in a multi-platform environment that includes remote access with mobile devices; flexible scheduling options for content delivery; aggressive technology refresh strategies; inclusion of advanced technology in traditional and non-traditional classrooms; growth of desktop virtualization enabling quick adoption of new academic software and learning tools. Wireless access is available on each campus and in-classroom technologies are kept up to date using audio visual capabilities that enhance student learning and participation.
"To be recognized as a national leader in the use of technology speaks to the continued expertise of our information technology department," said Dr. Janet F. Smith, Columbia State president. "We strive to stay on the cutting edge of technology in order to provide educational opportunities that are state of the art for our students in the classroom, at home, or wherever they might be.
This year's survey revealed insights about community colleges' technology priorities. Colleges surveyed indicated that mobility devices and application support is their top priority in the coming year, followed by cybersecurity tools and testing, website redesign/updates, upgrading classroom technologies, digital content and curriculum, and development of disaster recovery/business continuity strategies. The survey revealed that 34 percent of colleges have a strategy in place for the use of mobile devices, 35 percent have a full-time Chief Information Security Officer or similar full-time staff in charge of cybersecurity, 71 percent of the colleges' websites have responsive web design and 88 percent of colleges have off-site data storage redundancies in place.
The survey also revealed that 44 percent of colleges offer professional development courses on how to use mobile applications for instruction; 20 percent of colleges offer professional development for faculty or provide specific policies regarding how to protect student privacy when using apps, and 77 percent of colleges report they currently use technology tools for the classroom such as document cameras, assessment tools and display equipment.
###