Apr 23, 2018
Columbia State Hosts Annual Congressional Art Competition
(COLUMBIA, Tenn. - April 23, 2018) - - - Columbia State Community College recently hosted the 2018 Congressional Art Competition artists' reception for the state of Tennessee and the office of U.S. Congressman, Marsha Blackburn.
For the second consecutive year, Michele Wilkinson, Columbia State Pryor Art Gallery curator, was asked to judge the competition. The competition awarded first, second, third and two honorable mention winners from a variety of submissions that included paintings, drawings, collages, prints, mixed media, computer-generated artworks and photographs. Submissions will hang on the second-floor walls of the Administration Building on the Williamson Campus through April 26.
"It has been an honor and a pleasure to judge and host this exhibit for the second year," said Wilkinson. "And we, the Columbia State Foundation, are pleased to present a scholarship for the winner to attend Columbia State next fall."
Carly Hensley, a senior at Ravenwood High School, won first place in the competition with her print submission titled "Gracie." The piece was created as a gift for her dad's birthday.
The image was made through a print-making process called intaglio, commonly known as etching.
"I used metal to scratch into Plexiglass and then I rubbed a thick ink into all of the creases," Hensley said. "Then I went back and wiped off the parts that were supposed to be white before correcting the shading. I then used a really thick, damp paper that I cranked into a printers press."
"Traditionally, the intaglio process starts with coating a zinc or copper plate with an acid resistant ground," Wilkinson said. "Scratching and rubbing through the ground reveals the plate which is then put into a corrosive acid bath. The process is repeated in different levels to complete the final image and at that point is inked and pressed against the paper. This process has been shortened by her high school art teacher by using a scribe to scratch into Plexiglass, substituting the zinc or copper plate. The results are amazingly successful as seen in Carly's work, "Gracie." This is very brave and an advanced art process that you don't ordinarily find in high school."
Blackburn noted that Hensley, along with other Tennessee winners, will be recognized at an annual awards ceremony this summer in Washington, D.C. and that her work will be displayed for one year at the U.S. Capitol. In addition, the Columbia State Foundation has donated a $1,000 scholarship that Hensley can use towards her education if she attends Columbia State.
"I plan on attending Columbia State's Williamson Campus in the fall," Hensley said. "I'm so excited because I didn't even know about the scholarship."
The Administration Building is on the Williamson Campus, located at 1228 Liberty Pike, Franklin.
For additional information about the Congressional Institute, visit www.conginst.org.

Photo Caption: (Pictured, from left to right): Second place winner, "Summer" by Jamie Gim, senior at Centennial High School; third place winner, "Hide & Seek" by Sarah Schweitzer, senior at Ravenwood High School; honorable mention winner, "White Wolf" by Cydnee Cothron, junior at Richland High School; and honorable mention winner, "Deepali" by Jamie Blaylock, senior at Ravenwood High School.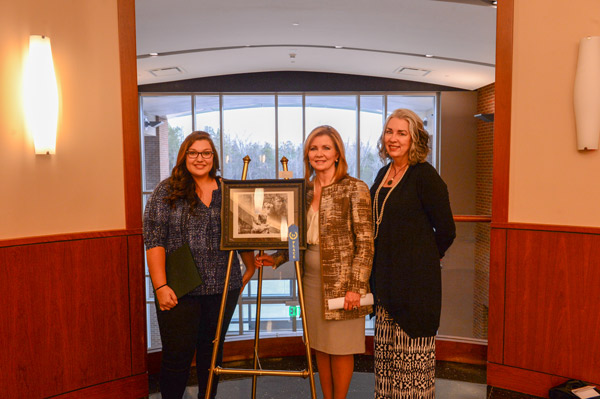 Photo Caption: (Pictured, from left to right): First place winner, Carly Hensley; U.S. Congressman Marsha Blackburn; and Pryor Art Gallery Curator Michele Wilkinson.
###