Apr 10, 2018
Pryor Art Gallery Hosts "Sacred Geometry" Exhibit
(COLUMBIA, Tenn. - April 10, 2018) - - - Columbia State Community College's Pryor Art Gallery will host the "Sacred Geometry" exhibit April 26 - May 30 showcasing the work of world-class artist and songwriter, Ray Stephenson. Artist receptions will include an active light and musical performance April 26 and 28 from 6 - 8 p.m.
Stephenson, a South Georgia native, is a world-class songwriter, recording artist, singer, guitar player, record producer and virtuoso painter. His exhibit is performance art at its best demonstrating the visual and auditory sounds associated with sacred geometry.
Sacred geometry attributes symbolic and sacred meanings to certain geometric shapes and proportions. It involves universal patterns used in the design of everything in our reality - most often seen in architecture and art. The basic belief is that geometry and mathematical ratios, and harmonics and proportions are also found in music, light and cosmology. Stephenson explains the philosophy behind his exhibit on a video that will be available upon entering the gallery.
"I find sacred geometry fascinating," said Michele Wilkinson, Columbia State Pryor Art Gallery curator. "It is not only beautiful to look at, but it has meaning and life context that is more complex than your average math problem."
Guests can journey through this one-of-a-kind exhibit that incorporates controlled light and music that provides a synchronized vibration and meter to the experience. The fluorescent colored art will appear several feet deep with the provided 3D glasses.
"This exhibit will be fun for everyone," Wilkinson said. "The timing is perfect as it coincides with the conclusion of the semester - students can unwind with this unique exhibit."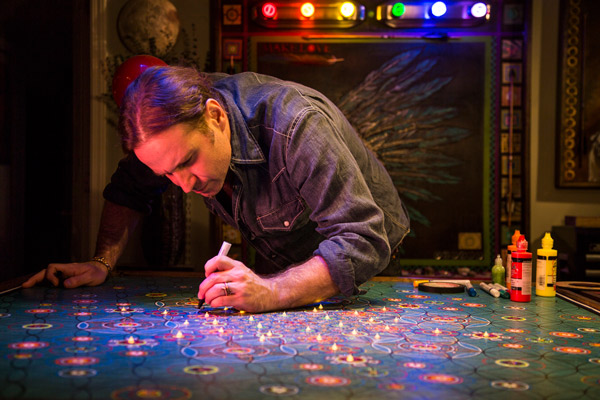 Photo Caption: Ray Stephenson
# # #