Dec 14, 2017
Columbia State Students Conduct Wildlife Research, Present at Undergrad Research Conference
(COLUMBIA, Tenn. - Dec. 14, 2017) - - - Three Columbia State Community College students recently completed an undergraduate wildlife research project and presented at the Undergraduate Research Conference in Austin, Texas Nov. 30 - Dec. 1.

Columbia State students States Labrum (Spring Hill), Matthew Hayden (Franklin) and Levi Guzman (Lewisburg) set up multiple infrared cameras in spring 2017 at the Columbia and Williamson Campuses and collected data through the spring, summer and fall producing a solid amount of data that the students summarized to make a presentation, "Documentation of Wildlife in Middle TN: Life cycle of the white tail deer Odocoileus virginianus," that was presented by Labrum at the conference. Their findings were published in the proceedings of the conference.
Funding for the equipment came from a grant provided by the Columbia State Foundation. Additional funding for research expansion at the college has been obtained through the Tennessee Board of Regents' Student Engagement, Retention and Success Grant program.
"The undergraduate research program has gained a lot of interest among students and faculty in a very short period and we think it will have dynamic growth over the next few years," said Dr. Dearl Lampley, Columbia State dean of the Science, Technology and Mathematics Division. "In fact, we have plans for program expansion into genetic research using funds from the TBR Student Engagement, Retention and Success Grant."
In addition, Labrum made a poster and delivered an oral presentation on the results of his thermal soil acclimation experiment, "The Effects of Long Term Soil Warming on Soil Respiration and Carbon Release," that he worked on at the Harvard University Undergraduate Research program during the summer 2017.
The new Columbia State biology course, Introduction to Biology Research was designed by Dr. Elvira Eivazova and Dr. Kristin Jernigan, Columbia State assistant professors of biology, to create hands-on research opportunities to promote and advance creativity, critical thinking, communication and writing skills. Students have the opportunity to learn biology research methods, write lab reports and papers in the scientific format and prepare a presentation to summarize the results of their research.
"States, Matthew and Levi are hardworking and highly motivated students," Eivazova said. "They are very excited about doing research at Columbia State - they view it is a valuable component of their education."
The students' future plans are to excel in STEM classes at Columbia State and continue their education a four-year university. Labrum plans to earn his bachelor's degree in biology at Lipscomb University after he graduates from Columbia State, while Hayden and Guzman will transfer to Middle Tennessee State University.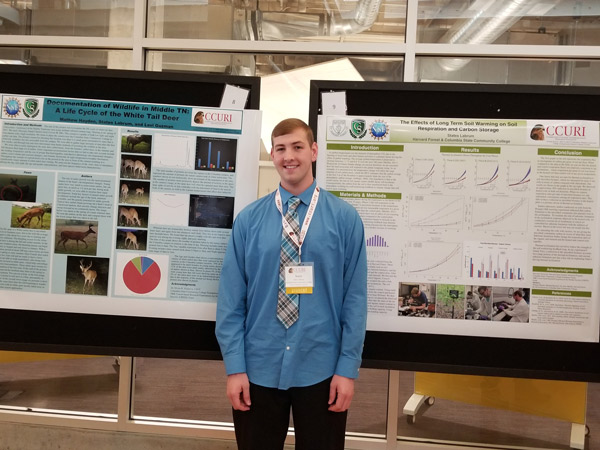 Photo Caption: Columbia State student, States Labrum, presented two research posters at the Undergraduate Research Conference in Austin, TX.