Nov 29, 2017
Columbia State Selects First Outstanding Tech Student
(COLUMBIA, Tenn. - Nov. 28, 2017) - - - Columbia State Community College recently held its first Outstanding Technical Student of the Year competition with nursing student, Shania DeRusha, winning the event.
Shania impressed all the judges with her exceptional speech and panel interview. Everyone involved with the competition thinks she has a great chance at winning the regional and state competitions", said Dr. Dearl Lampley, Columbia State dean of the Science, Technology and Mathematics Division and faculty sponsor of the competition.
DeRusha, second-year nursing student at the Williamson Campus, serves as a tutor for other nursing students as well as being the class representative for Nursing III. She aspires to be a geriatric oncology nurse after she completes her nursing education. DeRusha explained to the judging panel, comprised of community industry partners that she has excelled in her studies because of the professors at the college.
"The professors at Columbia State have taught me how to be an outstanding nurse not just by teaching the materials or the skills necessary, but by really teaching me how to respond to my patients," DeRusha said. "I am constantly encouraged to go on and do remarkable things in my nursing career. With the Tennessee Promise scholarship and the affordability of my education I am able to become a registered nurse after just graduating high school two years ago."
The Outstanding Technical Student of the Year is part of the Skills USA program that the college joined this year.
"This competition focuses on soft skill building including communication and personal interactions that are greatly needed in today's workforce," Lampley said.
The competition was open to all students majoring in technical programs. Faculty members had the opportunity to nominate students that met the GPA and enrollment criteria from their disciplines. Contestants were required to present a 3-minute speech, a resume and answer questions in a 20-minute panel interview. Local winners will continue at the regional competition where they will vie with other students from community and technical colleges in Middle Tennessee to be one of nine finalists to advance to the state competition. The winner of the state title, which is awarded for excellence in leadership and technical skill, will win a new car.
Skills USA provides extracurricular opportunities for all Tennessee Board of Regent institutions. TBR is Tennessee's largest higher education system, governing 40 post-secondary educational institutions with over 200 teaching locations. The TBR system includes 13 community colleges and 27 colleges of applied technology, providing programs to students across the state, country and world.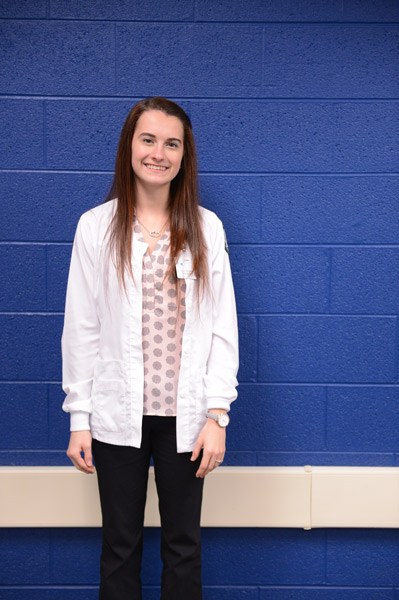 Photo Caption: Shania DeRusha, second-year nursing student at the Williamson Campus.
# # #