Nov 07, 2017
Columbia State hosts MLT Open House
(COLUMBIA, Tenn. - Nov. 7, 2017) - - - Columbia State Community College's Medical Laboratory Technology department hosted an open house to showcase program curriculum and student success.
Representatives from the Tennessee Higher Education Commission, Maury County Public Schools, South Central Tennessee Workforce Alliance and Maury Regional Medical Center had the opportunity to see what the students have been learning. Students demonstrated different skill sets including disease strain identification, blood testing, blood cell identification through a microscope and other MLT related skills.
The MLT Associate of Applied Science degree can be attained through an intensive 11-month program designed for immediate career entry.
"I love microbiology," said Christopher Smith, Columbia State MLT student. "Through this program, I have been able to apply my micro skills. I already have several job prospects."
The program is structured to provide competency based classroom and clinical experience that provides students with the tools necessary for licensure examination success and gainful employment. Upon completion of the program, students will be eligible to sit for the American Society for Clinical Pathologists or the American Medical Technologist national credentialing and state licensure examinations.
"The program really interested me," said Harley Chambers, Columbia State MLT student. "I enjoy working hands-on and I have had that opportunity with MLT and my clinicals."
Van Hendrickson, director of laboratory services at Maury Regional Medical Center, said that there is a high demand for professionals in the field and he is happy that Maury Regional has partnered with Columbia State for the conception of this program.

"We wanted to showcase where the LEAP funding from the state has gone," said Mike Baker, Columbia State instructor and director of MLT. "Our students have exceeded clinical expectations - they are doing well with their knowledge and skills."
For additional information or application details concerning the MLT program, contact the Health Sciences Division at HealthSciences@ColumbiaState.edu or contact Baker at mbaker31@ColumbiaState.edu. You can also visit www.ColumbiaState.edu/MLT.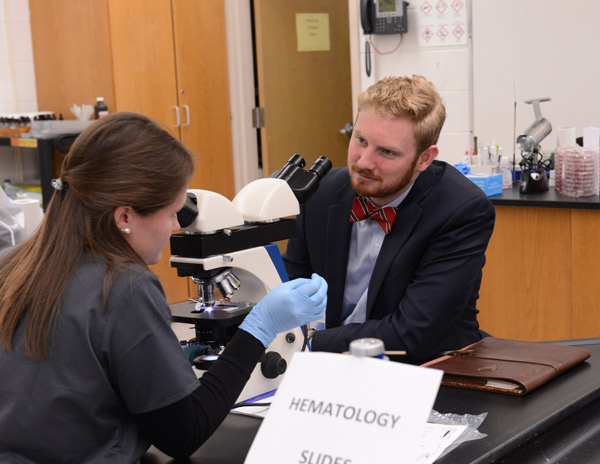 Photo Caption: Harley Chambers, Columbia State MLT student, explains hematology to Curt Johnston, Tennessee Higher Education Commission Education and Workforce Alignment director.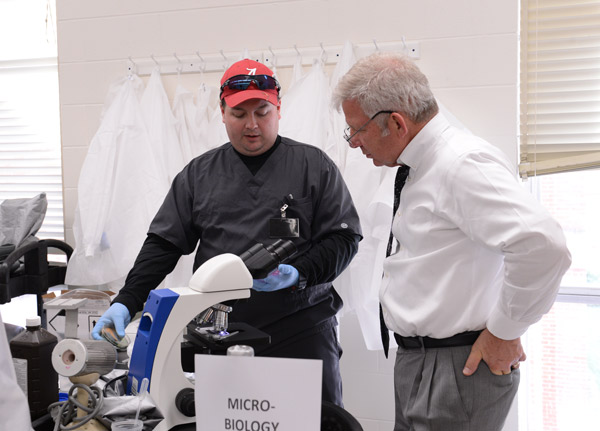 Photo Caption: Christopher Smith, Columbia State MLT student, shows his microbiology findings to Dr. R. David Johnson, Columbia State program director and associate professor of respiratory care.
# # #