Sep 18, 2017
Pryor Art Gallery announces Mirror on America exhibit
(COLUMBIA, Tenn. - Sept. 18, 2017) - - - Columbia State Community College's Pryor Art Gallery is hosting the "Mirror on America" exhibit Sept. 27 - Oct. 31. An artists' reception will be held Sept. 28 from 5 - 8 p.m.
"Not all art is pretty," said Michele Wilkinson, Pryor Art Gallery curator. "Some art is not comfortable and isn't meant to be hung over the sofa. The Pryor Art Gallery has chosen this exhibit to engage thought and conversation with our students and the community about important topics in society today - this is what higher education is all about."
"Mirror on America," created by artist W. Michael Bush, is a visual essay designed to facilitate open dialogue and examination of many of the social, political and moral dilemmas of our time. The intent of the exhibit is to aid in the understanding of the reasoning behind differing opinions.
The exhibit concept was designed with schools and museums in mind - his work has provoked meaningful discussion across the multi-faceted situations he has illustrated, and thus shows the potential of reaching understanding through art.
Bush spent 20 years as a scenic artist in several feature films and TV productions. Currently, he is exhibiting his work in several galleries across the southeast. His "Mirror on America" collection was created during the winter of 2015-2016. Since, he has created a continuation of his collection titled "Reflective Conversations," and is currently working on the third installation, "Looking Glass Lessons."
Bush earned a Bachelor's of Fine Art from Ringling College of Art and Design, and a Master's of Fine Art from the Institute of Fine Art in San Miguel de Allende, Mexico.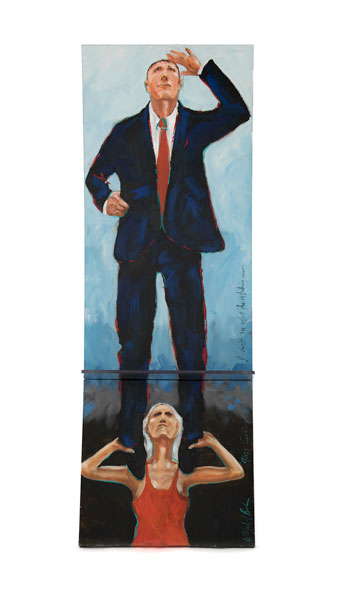 Photo Caption: "I don't see the glass ceiling from here," by artist W. Michael Bush.

Photo Caption: "400 to 1 seems fair," by artist W. Michael Bush.

Photo Caption: "The Orange Pipeline," by artist W. Michael Bush.
# # #