Aug 03, 2017
Shelley Manns: A Life of Education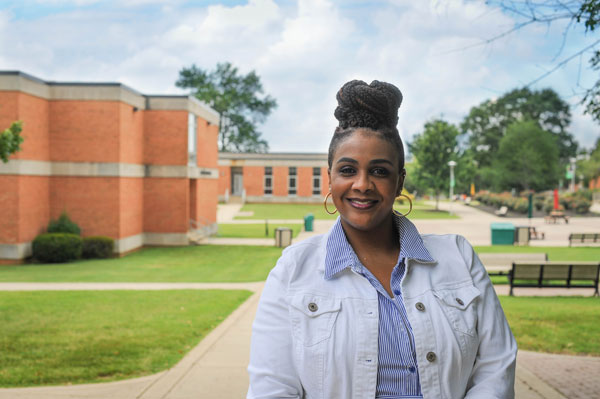 Photo Caption: Shelley Manns, Columbia State associate professor of English and assistant director of learning support.

For Shelley Manns, Columbia State associate professor of English and assistant director of learning support, education was a staple in her home growing up. Her father, a scholar, and mother, a teacher, taught Shelley that the world of academia allowed a person a great deal of influence over others' lives.
"Anybody who is somebody was taught by somebody," Manns said. "Teachers impact students and I strive to positively influence every student that comes through my classroom."
Manns said that she was surrounded by a lot of powerful women, who happened to be educators, when she was growing up - several women during her college career nurtured her talents in English, and steered her towards the path of education. Manns knew that she too wanted to have that sort of impact on students that entered her classroom.
"I get a thrill off being in a classroom and teaching my students to be confident in what they write," Manns said. "I love teaching them the power of words and seeing how they mature in their writing by the end of the class. I hope that whatever knowledge I have imparted on my students has had a positive impact on them and has made them think differently."
Manns has been with Columbia State for 15 years. During that time, Manns has worked on several projects and committees, including the learning support committee. In addition, Manns has won several awards including the Distinguished Faculty Award and was named the Maxine Smith Fellow in 2013.
Manns said that during her time at the college, she has never felt over looked - she feels that her talents are appreciated and nurtured, especially by her supervisor, Victoria Gay, Columbia State dean of the Humanities and Social Sciences Division and associate professor of English.
"While Shelley's professionalism as a faculty, as an advisor and as assistant director of learning support is widely known across the college, those of us who work with her daily see a very human side of Shelley in that faith and family are at her core," Gay said.
"I've always had support here," Manns said. "You get close to the people you work with at Columbia State. My people support me, and we all want to see each other do well."
Manns identified her biggest accomplishment while at Columbia State as promoting diversity and the production of the Slave Narratives, which she hopes to see grow in the future.
Manns earned her bachelor's and master's degrees in English from Tennessee State University.
Manns is a native of Cleveland, Ohio and currently resides in Nashville.
###