Apr 27, 2017
Martin Methodist Signs Articulation Agreement With Columbia State Community College And Unveils Scholarship
Agreement includes $10,000 scholarship award for matriculating students

COLUMBIA, Tenn. - Martin Methodist College signed an articulation agreement with Columbia State Community College on Thursday morning at Columbia State's Columbia campus. At the event, both schools' presidents announced an additional $10,000 Victoria Martin Scholarship for Columbia State students continuing their educations at Martin Methodist.
The articulation agreement strengthens ties between both colleges, allowing Columbia State's graduates to use their credits toward a bachelor's degree at Martin Methodist. Columbia State graduates will be eligible for a $10,000 scholarship to use toward tuition and other fees at Martin Methodist, making a bachelor's degree close to home more accessible and affordable.
"Tennessee's ability to compete in a global economy is tied directly to having the talented and skilled workforce the job market demands," Gov. Bill Haslam said. "Martin Methodist and Columbia State are setting a great example of how institutions can work together to ensure southern Middle Tennesseans will be ready for the jobs that are coming and those that are already here."
The announcement comes as Martin Methodist responds to Haslam's proposal to expand Tennessee Promise scholarships to all Tennessee adults. Under the program, Tennessee high school graduates can attend community college tuition-free.
Haslam has been increasing higher-education access as part of his Drive to 55, which calls for 55 percent of Tennesseans to obtain a college degree or certificate by 2025.
"Martin Methodist is fortunate to have great community colleges like Columbia State in its service area, and partnerships like this one will be essential to accomplishing Governor Haslam's Drive to 55," said Mr. Robby Shelton, Martin Methodist's interim president. "Martin Methodist is committed to helping Columbia State graduates continue their educations and achieve their career goals."
Columbia State is Tennessee's first community college and features campuses in Columbia, Franklin, Lawrenceburg, Lewisburg and Clifton. Approximately 24 percent of Columbia State's 5,600 students graduate within three years, meaning more than 1,300 Columbia State students could be eligible for the $10,000 scholarship to Martin Methodist.
"Martin Methodist and Columbia State have come together to sign an agreement that demonstrates to our community and our students the relationship that we have to promote student achievement," stated Dr. Janet F. Smith, Columbia State president. "In essence, today is all about student success: finding that pathway for students to be successful while staying in this region and completing their baccalaureate."
The articulation agreement went into effect immediately after the signing.
"This type of partnership is essential to ensuring that successful community college graduates consider the strengths of attending an independent college," stated Dr. Claude Pressnell, president of the Tennessee Independent Colleges and Universities Association (TICUA). "Transition aid is a crucial piece in helping students make the move from a community college to a four-year institution."
Those interested in learning more about matriculating can contact Martin Methodist Admissions at admissions@martinmethodist.edu.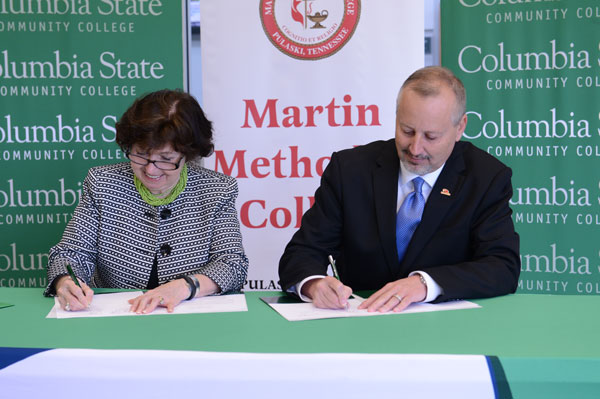 Photo Caption : Dr. Janet F. Smith (left), president of Columbia State Community College, and Mr. Robby Shelton, interim president of Martin Methodist, signed an articulation agreement between the two colleges on April 27.
Martin Methodist College, founded in 1870, is a private, liberal arts college affiliated with the United Methodist Church. Martin Methodist offers baccalaureate degrees in 39 programs of study that include English, religious studies, music and dramatic arts, mathematics and natural sciences, business, social sciences, education, criminal justice, and nursing.

###