Apr 24, 2017
Columbia State Hosts Annual Congressional Art Competition

Photo Caption: U.S. Congressman, Marsha Blackburn and Michele Wilkinson, Columbia State Pryor Art Gallery curator and continuing education associate with the first place work, "Peace" by Bailey Gibson.

(COLUMBIA, Tenn. - April 24, 2017) - - - Columbia State Community College recently hosted the 2017 Congressional Art Competition artists' reception for the State of Tennessee and the office of U.S. Congressman, Marsha Blackburn.
Michele Wilkinson, Columbia State Pryor Art Gallery curator and continuing education associate, was asked to judge this year's competition. The competition awarded first, second, third and honorable mention winners from a variety of submissions that included paintings, drawings, collages, prints, mixed media, computer-generated artworks and photographs. Submissions will hang on the second-floor walls of the Sciences Building on the Williamson Campus through April 26.
"It has been an honor and a pleasure to judge and host this exhibit," said Wilkinson. "These young artists submitted some incredible work well beyond their years."
Bailey Gibson, a senior at Ravenwood High School, won first place in the competition with her submission titled "Peace." Peace is one of twelve works that Gibson has created for her concentration.

Photo Caption: First place winner, Bailey Gibson from Ravenwood High School, "Peace."
"My concentration is about sickness and the emotions that develop over time," Gibson said. "This piece is farther along in my concentration - it is about when someone comes to terms with their illness."
Annually, the Congressional Institute sponsors a nationwide high school visual arts competition to recognize and encourage artistic talent in the nation and in each congressional district. Since the Artistic Discovery competition began in 1982, more than 650,000 high school students have participated.
"I can't begin to tell you how excited we are to be able to have this art competition and to have Columbia State host this reception for us so we can honor our young artists and their talent," Blackburn said. "We are grateful for this opportunity to recognize students for the work that they do."
Blackburn noted that Gibson, along with the other state's winners, will be recognized at an annual awards ceremony this summer in Washington, D.C. and that her work will be displayed for one year at the U.S. Capitol. In addition, the Columbia State Foundation has donated a $1,000 scholarship that Gibson can use towards her education if she attends Columbia State.
The Sciences Building is on the Williamson Campus, located at 1228 Liberty Pike, Franklin.
For additional information about the Congressional Institute, visit www.conginst.org.

Photo Caption: Second place winner, Mari Lagrange from Ravenwood High School, "Serenity."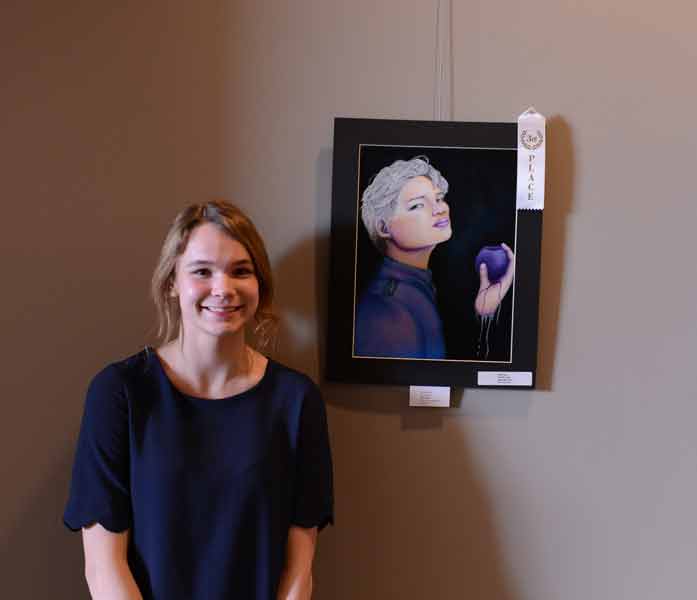 Photo Caption: Third place winner, Rylee Davy from Fred J. Page High School, "The Plummet."



Photo Caption: Honorable Mention, Sarah Maggart from Ravenwood High School, "Chick-Fil-A."
Columbia State is a two-year college, serving a nine-county area in southern Middle Tennessee with locations in Columbia, Franklin, Lawrenceburg, Lewisburg and Clifton. As Tennessee's first community college, Columbia State is committed to increasing access and enhancing diversity at all five campuses. Columbia State is a member of the Tennessee Board of Regents, one of the largest higher education systems in the nation. For more information, please visit www.ColumbiaState.edu.
Tennessee's Community Colleges is a system of 13 colleges offering a high-quality, affordable, convenient and personal education to prepare students to achieve their educational and career goals in two years or less. We offer associate degree and certificate programs, workforce development programs and transfer pathways to four-year degrees. For more information, please visit us online at tncommunitycolleges.org.
# # #