Apr 14, 2017
Columbia State Department of Music Presents Spring Concert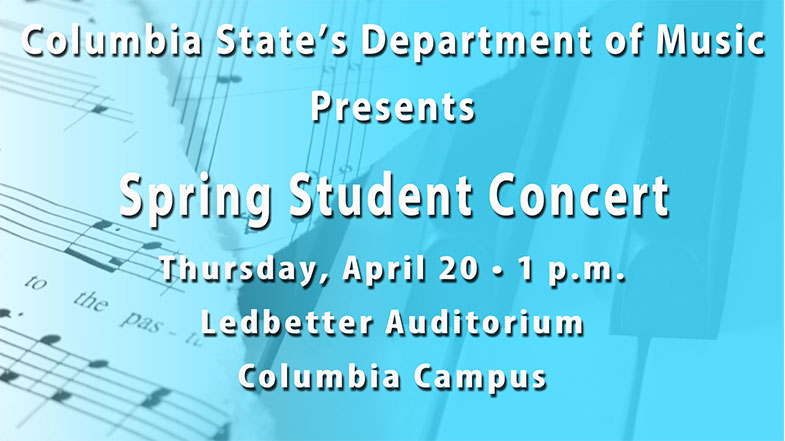 (COLUMBIA, Tenn. - April 14, 2017) - - - Columbia State Community College's Department of Music presents the spring student concert April 20 at 1 p.m. in the Ledbetter Auditorium.
The concert will feature Columbia State's choir under the direction of Emily Gaskill, Columbia State associate professor of music. The program contains a variety of classical, folk and contemporary songs by well-known composers such as George Frederick Handel, Joseph Haydn, William Billings and Aaron Copland.
"The students have had fun with this music," Gaskill said. "We hope the audience will enjoy it as much as we have."
The concert is free and open to the public. The Ledbetter Auditorium is in the Frank G. Clement Building on the Columbia Campus, located at 1665 Hampshire Pike.
Columbia State is a two-year college, serving a nine-county area in southern Middle Tennessee with locations in Columbia, Franklin, Lawrenceburg, Lewisburg and Clifton. As Tennessee's first community college, Columbia State is committed to increasing access and enhancing diversity at all five campuses. Columbia State is a member of the Tennessee Board of Regents, one of the largest higher education systems in the nation. For more information, please visit www.ColumbiaState.edu.
Tennessee's Community Colleges is a system of 13 colleges offering a high-quality, affordable, convenient and personal education to prepare students to achieve their educational and career goals in two years or less. We offer associate degree and certificate programs, workforce development programs and transfer pathways to four-year degrees. For more information, please visit us online at tncommunitycolleges.org.
# # #