Feb 24, 2017
David Johnson Spotlight
R. David Johnson, program director and associate professor of respiratory care has been with Columbia State Community College since 2000. His extensive professional experience in respiratory care and his role in the respiratory care program make him a vital member of the Columbia State family.
Johnson, a Rockford, Illinois native, earned his associate degree in respiratory care from Aquinas Junior College, his bachelor's in respiratory care from Tennessee State University and his master's in education from Middle Tennessee State University. Johnson has an extensive career in the field - he noted that while working at Saint Thomas Hospital, he discovered his passion for working with students.
"The most rewarding part of my job is hearing that my students get jobs," Johnson said. "Students have at least one goal in mind when they start this program - to start a new career. It is my job to help them get there."



Photo Caption: Johnson leads hands-on instruction with respiratory care students.
When Johnson first came to Columbia State, he focused on the clinical piece of the program. He had held a teaching position at Saint Thomas and had experience coordinating students. Since then, Johnson has transformed a program that was struggling with low enrollment and low graduation rates into a program that consistently exceeds national standards in almost all areas including attrition and pass rates on national examinations. As a result, the program received the Distinguished Registered Respiratory Therapist Success Award in 2016.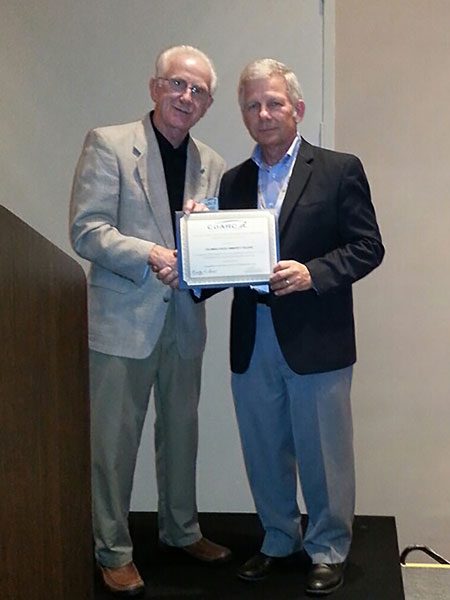 Photo Caption: Pictured, left to right, Bradley A. Leidich, MSEd, RRT, FAARC, president of CoARC and David Johnson.
"Columbia State's respiratory care program is the go-to provider of therapists for healthcare facilities throughout the region," said Dr. Kae Fleming, Columbia State dean of health sciences and professor of radiologic technology. "In keeping with the college mission, the program nurtures student success and produces graduates that positively change patients' lives."
"This is an intense program - our students work hard and I am honored to guide them along their journey," Johnson said.
Johnson said that the program would not be the success that it is today without Roger Major, Columbia State clinical director and associate professor of respiratory care; Dr. Kae Fleming and the administration who continuously support the program.


Photo Caption: Row one, left to right: Brittney Beard, Brittany Cantrell, Sarah Arnold, Stella Jones, Hannah Quick and Tim Polly, adjunct clinical instructor Vanderbilt University Medical Center. Row two, left to right: R. David Johnson, director and associate professor of the respiratory care program, Theresa Glover, Stacy Rockwood, Christina Price, Breanna Potts, Lauren Caperton, Bailey Joiner, Ryan Daughrity, Tara Hewitt and Ryan Nutt. Row three, left to right: Lane Oliver and Roger Major, clinical director and associate professor of respiratory care.

"Columbia State does a great job at supporting this program," Johnson said. "We are not an inexpensive program. The school does what it can to provide us with state-of-the-art equipment, and that support means a lot. It's important that we teach for the future, not for the past."
In addition to his teaching and program director duties, Johnson is the chair for government affairs for the Tennessee Society for Respiratory Care and is the advisor for the Columbia State Respiratory Care Club.
The Respiratory Care Club is quickly approaching their 9th Annual Lungs of Steel 5k Run/Walk on April 15, which raises money to send students to the Respiratory Care State Convention and to benefit the Cystic Fibrosis Foundation. Johnson feels that it is important the he takes strides to make his students marketable and noted that students have a great networking opportunity at this convention.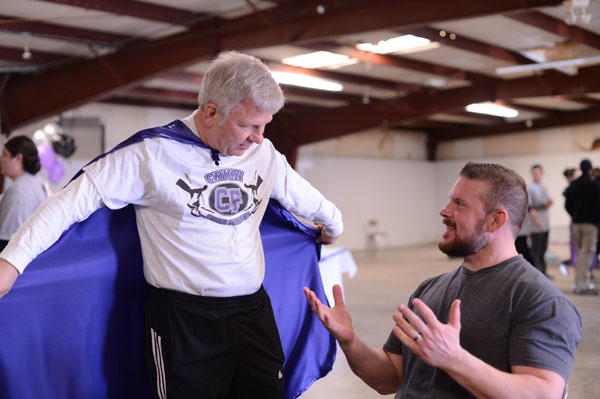 Photo Caption: Johnson at the 8th annual Lungs of Steel 5k Run/Walk.
Johnson currently resides in Franklin with his wife, Debbie.