Jan 11, 2017
Columbia State And Columbia Central High School Announce Collegiate Academy
(COLUMBIA, Tenn. - Jan. 11, 2017) - - - Columbia State Community College and Columbia Central High School announced the establishment of the Columbia Central Collegiate Academy Thursday, Jan. 5. Through this partnership, Columbia State will offer dual enrollment courses and enrichment services to academy students.
"This partnership will help prepare our graduates to succeed and to pursue the highest, most challenging level of academic achievement," said Roger White, CHS principal. "The academy will help CHS grow our already rigorous academic environment."
The Collegiate Academy will require students to take a combined total of at least 12 credit hours in honors, advanced placement or dual enrollment courses. In addition, students will be required to complete 20 hours of extra-curricular school activities such as clubs or sports. The combination of the courses and extra-curricular hours will prepare the students for future success, leadership and character development. The academy will require group projects that will culminate into one large senior project, which will encourage collaborative, innovative and adaptive thinkers.
CHS juniors and seniors who meet eligibility requirements can take up to six hours of dual enrollment courses at Columbia State tuition-free through the state's Dual Enrollment Grant. Earned dual enrollment credits will be placed on both high school and college transcripts.
In addition, students will have the ability to attend lecture series and other college events, as well as access to resources such as the college library and free tutoring services. Students will also tour the Columbia Campus each year.
Columbia State will serve as a resource for students in choosing an area of study by their sophomore year in high school. Academy students will also obtain real-world experience in their chosen focus area that will help to enhance their resumes.
"Columbia State is excited to be a part of this endeavor," said Dr. Margaret Smith, Columbia State executive vice president - provost. "For many years we have partnered with CHS and we are excited to help bring new opportunities to students in Maury County."
Smith is hoping that the Collegiate Academy, the idea of a school within a school, will serve as a model to other area schools to provide additional learning opportunities for students and to ease the transition from high school to college studies.
There will be an informational meeting on Jan. 19 at 6:30 p.m. in the CHS auditorium located at 921 Lion Parkway where students will be introduced to the application process. To apply, students will have to fill out the application online at the CHS website. The application link will open Jan. 19 and will close Feb. 16. Students will go through an interview session and will need to submit writing samples. Grades, disciplinary standing and attendance will also factor into acceptance to the academy.



Photo Caption: (Standing, pictured from left to right) Dr. Sean Fox, Columbia State vice president of student affairs; Victoria Gay, Columbia State dean of humanities and social sciences; Dr. Christa Martin, Columbia State assistant to the president for access and diversity; Dr. Dearl Lampley, dean of science, technology and mathematics; Scott Gaines Maury County Public Schools assistant superintendent; Beverly Miller, MCPS director of instruction and Dr. Ryan Longnecker, MCPS secondary supervisor. (Sitting, pictured from left to right) Dr. Margaret Smith, Columbia State executive vice president - provost and Roger White, CHS Principal.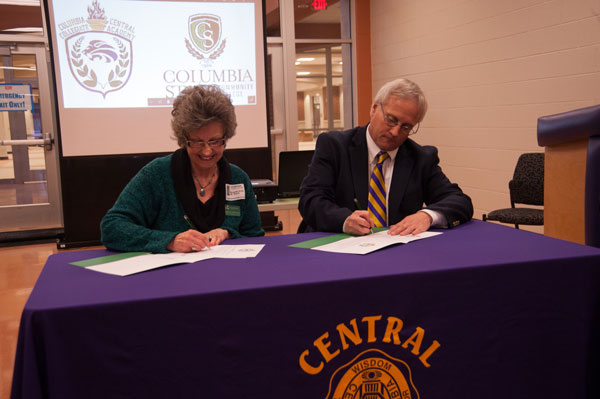 Photo Caption: Smith and White sign partnership agreement.
Columbia State is a two-year college, serving a nine-county area in southern Middle Tennessee with locations in Columbia, Franklin, Lawrenceburg, Lewisburg and Clifton. As Tennessee's first community college, Columbia State is committed to increasing access and enhancing diversity at all five campuses. Columbia State is a member of the Tennessee Board of Regents, one of the largest higher education systems in the nation. For more information, please visit www.ColumbiaState.edu.
Tennessee's Community Colleges is a system of 13 colleges offering a high-quality, affordable, convenient and personal education to prepare students to achieve their educational and career goals in two years or less. We offer associate degree and certificate programs, workforce development programs and transfer pathways to four-year degrees. For more information, please visit us online at tncommunitycolleges.org.
# # #