Sep 14, 2016
Flagel To Present Lecture On Franklin And The Civil War
(FRANKLIN, Tenn. - Sept. 14, 2016) - - - Columbia State Community College associate professor of history, Dr. Thomas Flagel, will present "War, Peace and Typhoid: Union Occupation of Franklin during the Civil War" on Oct. 4 at 6 p.m. in the Community Room at the Williamson Campus.
During the Civil War, the Battle of Franklin lasted five hours; however, federal occupation of Williamson County lasted more than two years. At one point, a Union garrison outnumbered the local population by more than ten to one.

"For more than two years, Union troops, white civilians and African Americans coexisted in Franklin in a tenuous, volatile, and unforeseen situation," Flagel said. "Almost completely forgotten by our generation, the occupation of Franklin radically altered theirs. What they saw and what they did may shock, inspire or repulse a modern audience. It is time we learn of their story."
Flagel will explore the causes and effects of this massive buildup, as well as how it transformed the racial, political, economic and environmental landscape of the region.
Flagel earned his bachelor's in history from Loras College, a master's in European history from Kansas State University, a master's in international relations from Creighton University and a doctorate of public history from Middle Tennessee State University.
The Community Room is located on the second floor of the Administration Building on the Williamson Campus at 1228 Liberty Pike, in Franklin, Tennessee. The lecture is free and open to the public.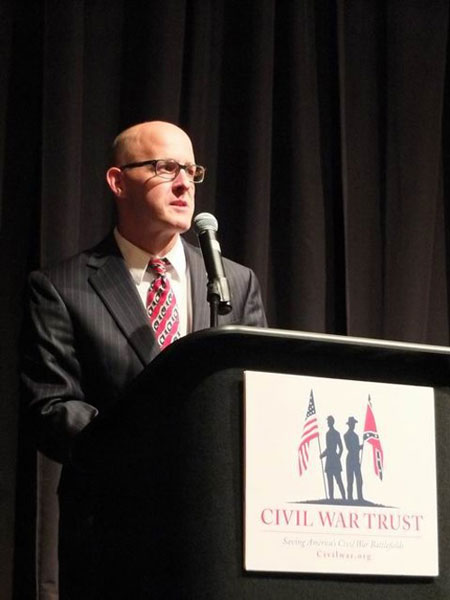 Photo Caption: Dr. Thomas Flagel, Columbia State associate professor of history.
Columbia State is a two-year college, serving a nine-county area in southern Middle Tennessee with locations in Columbia, Franklin, Lawrenceburg, Lewisburg and Clifton. As Tennessee's first community college, Columbia State is committed to increasing access and enhancing diversity at all five campuses. Columbia State is a member of the Tennessee Board of Regents, one of the largest higher education systems in the nation. For more information, please visit www.ColumbiaState.edu.
Tennessee's Community Colleges is a system of 13 colleges offering a high-quality, affordable, convenient and personal education to prepare students to achieve their educational and career goals in two years or less. We offer associate degree and certificate programs, workforce development programs and transfer pathways to four-year degrees. For more information, please visit us online at tncommunitycolleges.org.
# # #