Jun 29, 2016
Columbia State Places Seventh In National Community College Survey

Photo Caption: Pictured, left to right: Dr. Janet F. Smith, Columbia State president, and Dr. Emily Siciensky, associate vice president of information technology, proudly show off the Digital Community Colleges Survey Award.

(COLUMBIA, Tenn. - June 29, 2016) - - - Columbia State Community College was recently recognized by the Center for Digital Education as a top 10 winner of their 2015-2016 Digital Community Colleges Survey, an award honoring community colleges for their efforts using technology to deliver curriculum and improve services offered.
Now in its eleventh year, the survey is used to highlight community colleges who demonstrate innovative uses of technology, including online courses and mobile environments, mobile apps, secure platforms and wireless networks.
"This year's survey indicates that community colleges are making great strides in using data to improve decisions providing professional development to assist faculty in the use of technology and creating robust online and mobile environments for their students," said Dr. Kecia Ray, Center for Digital Education executive director. "Congratulations to this year's survey winners."
Columbia State placed seventh overall in the CDE's Small Colleges Category, encompassing all community colleges nationwide with enrollment of 5,000 or fewer students. Columbia State was one of only three colleges in the state to be recognized, joined by Walters State Community College and Pellissippi State Community College who placed second and ninth in the categories of Mid-Sized Colleges and Large Colleges respectively.
"We have done this survey in years past, but this is the first time we've been recognized in the top 10," said Dr. Emily Siciensky, Columbia State associate vice president of information technology. "It's a great honor to be considered one of the leading colleges in the nation that provides digital education for our students."
Siciensky explained that Columbia State was chosen for the award for providing digital course content and curriculum across multiple platforms, including mobile devices; aggressive computer refresh strategy to stay up to date with current platforms; expansive desktop virtualization; and wireless instructional technology at all campuses, as well as other uses of technology at the college.
"To be ranked as a top 10 winner speaks to the expertise of our information technology department," said Dr. Janet F. Smith, Columbia State president. "We strive to stay on the cutting edge of technology in order to provide technology driven education for our students in the classroom, at home or wherever they might be."
The top 10 rankings were officially recognized by the American Association of Community College's annual conference held in Chicago.
This year's Digital Community Colleges Survey also revealed insights about community colleges' technology priorities. Colleges surveyed indicated that mobility devices/app support and website redesign are their top priorities in the coming year, followed by cybersecurity tools and testing, network infrastructure modernization, server consolidation and virtualization, and disaster recovery/business continuity.
The survey also revealed that 59 percent of colleges now offer professional development courses on how to use mobile apps for instruction; while 93 percent offer professional development courses on how to integrate technology into curriculum and instructional practices.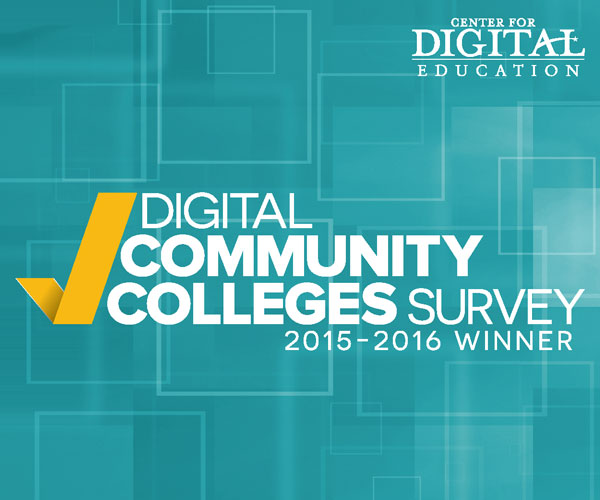 Columbia State is a two-year college, serving a nine-county area in southern Middle Tennessee with locations in Columbia, Franklin, Lawrenceburg, Lewisburg and Clifton. As Tennessee's first community college, Columbia State is committed to increasing access and enhancing diversity at all five campuses. Columbia State is a member of the Tennessee Board of Regents, one of the largest higher education systems in the nation. For more information, please visit www.ColumbiaState.edu.
Tennessee's Community Colleges is a system of 13 colleges offering a high-quality, affordable, convenient and personal education to prepare students to achieve their educational and career goals in two years or less. We offer associate degree and certificate programs, workforce development programs and transfer pathways to four-year degrees. For more information, please visit us online at tncommunitycolleges.org.