Jun 16, 2016
Columbia State Phi Theta Kappa Makes History
(COLUMBIA, Tenn. - June 16, 2016) - - - Columbia State Community College continues to make history with its Beta Kappa Theta chapter of Phi Theta Kappa.

Just one month after chapter and regional president, Hillary Allen was awarded the Distinguished Chapter Officer Award, Dr. Janet F. Smith, Columbia State president was awarded the Shirley B. Gordon Award of Distinction for outstanding efforts in promoting the goals of the program at the Phi Theta Kappa International Convention held in Washington, District of Columbia.

"I am honored that these students nominated me for this award," Smith said. "We have such outstanding students in our chapter, and they represent us well by providing service to the community, developing leadership skills and practicing fellowship with students across campus as well as with other community college students through Phi Theta Kappa. I support them any way I can."

In addition to the awards won by Allen and Smith, the Columbia State chapter had two members, Allen and Ashlynn Eckert, participate in the Parade of Scholars and earn the Coca-Cola Leaders of Promise Scholarship. The Tennessee region as a whole was also successful, being one of only three regions in the international organization to receive the Distinguished Region Award.

The Distinguished Region Award recognizes the achievements of regions in the areas of programming and organizational structure. While this award is given to the region as a whole, the efforts of Allen on the local and regional levels were instrumental in the Tennessee region being selected.

"The hard work and energy displayed by the 2015 regional officer team echoed throughout the state," Allen said. "My team brought Tennessee's most elite community college students the recognition they deserve."

Allen also spoke about the incoming regional officers that will hail from Columbia State during the 2016-2017 academic year.

"I am proud that Columbia State will have another Phi Theta Kappa regional president, as well as a vice president of the middle region," Allen said. "Meagan Walsh (president) and Sofia Candiani (vice president) both had impressive campaigns and displayed confidence beyond their years. I have no doubt they will continue to grow our region to even greater heights."

Phi Theta Kappa is an international honors society for two-year schools. Columbia State's chapter, Beta Kappa Theta, was chartered in 2000 and has since grown to become a Five-Star Chapter. Membership into Phi Theta Kappa is limited to roughly the top 10 percent of students based on academic achievements.



Photo Caption: Pictured left to right: the new 2016-2017 regional officer team Meagan Walsh, region president; Diloney Cutrell, region secretary; Mathew Miller, vice president-West Tennessee; Sofia Candiani, vice president-Middle Tennessee; Cole Barnes, vice president-East Tennessee.



Photo Caption: The new 2016-2017 Columbia State's PTK Beta Kappa Theta chapter officers, left to right: Tarin Cooper (Lynnville), chapter vice president of scholarship; Ashlynn Eckert (Pleasantville), chapter vice president of leadership; Sofia Candiani (Columbia), region vice president-Middle Tennessee; PTK Adviser Mandy Carter-Lowe; Hillary G. Allen (Franklin), 2015 region president and chapter president; Meagan Walsh (Lewisburg), 2016 region president; Emily Obert (Santa Fe), chapter member.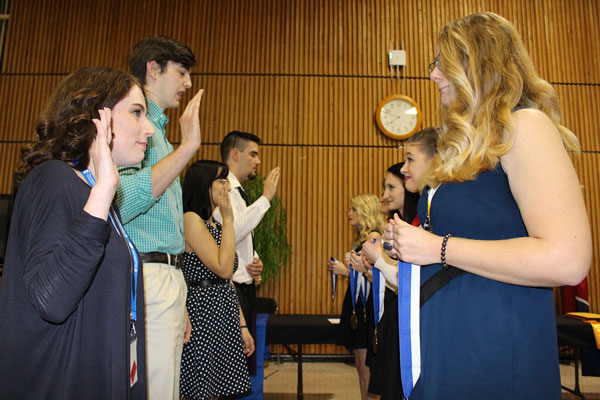 Photo Caption: The new 2016 Phi Theta Kappa regional officers being sworn in by the 2015 PTK regional officers. Meagan Walsh (right) and Hillary Allen (left).



Photo Caption (hillary.allen_receivingdistinguishedofficeraward): Hillary Allen (left) receives the Distinguished Officer Award.
Columbia State is a two-year college, serving a nine-county area in southern Middle Tennessee with locations in Columbia, Franklin, Lawrenceburg, Lewisburg and Clifton. As Tennessee's first community college, Columbia State is committed to increasing access and enhancing diversity at all five campuses. Columbia State is a member of the Tennessee Board of Regents, one of the largest higher education systems in the nation. For more information, please visit www.columbiastate.edu.
Tennessee's Community Colleges is a system of 13 colleges offering a high-quality, affordable, convenient and personal education to prepare students to achieve their educational and career goals in two years or less. We offer associate degree and certificate programs, workforce development programs and transfer pathways to four-year degrees. For more information, please visit us online at tncommunitycolleges.org.
# # #