May 26, 2016
Columbia State Pins 51 New Nursing Grads
(Columbia State Community College nursing graduates light candles and recite the nursing pledge in honor of Florence Nightingale and all those who have worked diligently to promote the nursing profession.)
(COLUMBIA, Tenn. - May 20, 2016) - - - Columbia State Community College pinned 51 new nursing graduates in a traditional ceremony held May 6 in the Webster Athletic Center.
Nursing students are trained to provide direct patient care in various areas, including medical, surgical, pediatrics, and more. After graduation, these nurses will work in hospitals, long-term care facilities, clinics, schools and home health care settings. Columbia State's location affords the opportunity for the students to have ample access to training in these areas and more.
"Columbia State's nursing program is blessed to partner with many excellent healthcare facilities for clinical training," said Barbara Blum, nursing program director. "We limit the number of students in each clinical to eight in the first year and six or seven in the second year. This allows clinical instructors to work closely with students, recognizing strengths and weaknesses of each. As a result, Columbia State graduates consistently have a higher than state and national success rate on the NCLEX and the majority of our graduates obtain job placement within six months of graduation."
Columbia State nursing graduates complete four semesters of classroom instruction and 10 credit hours of clinical instruction in order to earn an Associate of Applied Science degree in nursing. Next, graduates must pass the National Council Licensure Examination in order to earn licensure, which is required to practice as a registered nurse. The Columbia State nursing students' first-attempt pass rate for the NCLEX is 88.46 percent, which surpasses the national rate of 86 percent.
"Columbia State's nursing program has a long history of supplying the region's need for entry level registered nurses," said Dr. Kae Fleming, dean of Columbia State's health sciences division and professor of radiologic technology. "Anyone who seeks medical care in southern Middle Tennessee is likely to experience excellent care provided by a proud Columbia State nursing alum."
The Columbia State nursing program is committed to excellence in nursing education. It has received full approval from the Tennessee Board of Nursing and is accredited by the Accreditation Commission for Education in Nursing. The program's four-year average graduate job placement rate is 95.2 percent.



Photo Caption: Nursing graduates include residents of Giles, Hickman, Lawrence, Lewis, Marshall, Maury, Wayne and Williamson Counties, as well as Bedford, Cheatham, Davidson, Dickson, Humphreys, Rutherford and Sumner Counties.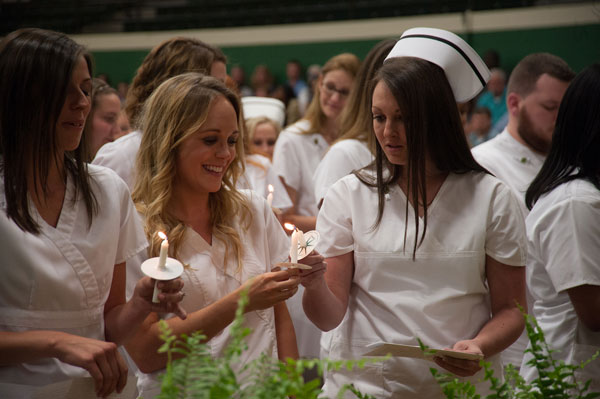 Photo Caption: Nursing graduates, light candles in preparation of reciting the nursing pledge.
Columbia State's nursing program has a competitive admission process with applicants admitted twice per year. For more information about applying to the program, contact Blum at (931) 540-2609 or bblum@ColumbiaState.edu, or visit www.ColumbiaState.edu/Nursing.