Apr 01, 2016
Pryor Art Gallery to Exhibit Maury County Middle and High School Art
Photo Caption: Color Wheel, Morgan Wood of Mt. Pleasant High School.
(COLUMBIA, Tenn. - March 31, 2016) - - - Columbia State Community College's Pryor Art Gallery will feature the artwork of Maury County middle and high school students from April 13 through April 22. An artists' reception will take place in the gallery April 21 from 5 - 8 p.m.
"I look forward to this level of education to see how our pop culture influences the work of the art student. It is quite telling what is on the minds of our youth and emerging artists," said Michele Wilkinson, Pryor Art Gallery curator. "The art teachers of Maury County are doing a great job of helping their students see their surroundings with an objective eye."
The exhibit features diverse artwork in a variety of mediums from students who attend Maury County middle and high schools.
Parents, family, friends and teachers of the students are invited to attend the reception.
For detailed information related to the exhibit, please contact Wilkinson at 931.540.2883 or mwilkinson2@ColumbiaState.edu.
The Pryor Art Gallery is in the Waymon L. Hickman Building on the Columbia Campus, located at 1665 Hampshire Pike. The gallery is open and free to the public Monday through Thursday, 8 a.m. - 5 p.m. and Friday from 8 a.m. - 4 p.m. Please visit www.ColumbiaState.edu/PryorGallery for additional information.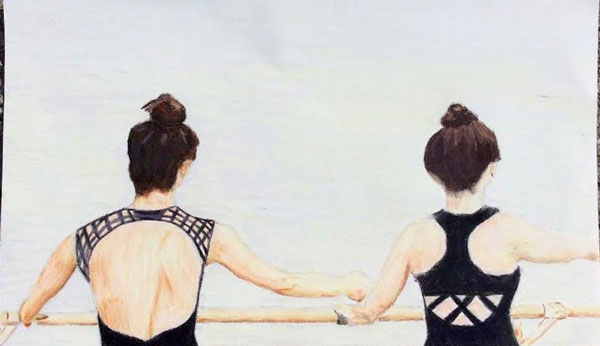 Photo Caption: Dancers at the Bar, Columbia Central High School.

Photo Caption: Cake ceramics by 8th graders from Spring Hill Middle School.
Columbia State is a two-year college, serving a nine-county area in southern Middle Tennessee with locations in Columbia, Franklin, Lawrenceburg, Lewisburg and Clifton. As Tennessee's first community college, Columbia State is committed to increasing access and enhancing diversity at all five campuses. Columbia State is a member of the Tennessee Board of Regents, one of the largest higher education systems in the nation. For more information, please visit www.columbiastate.edu.
Tennessee's Community Colleges is a system of 13 colleges offering a high-quality, affordable, convenient and personal education to prepare students to achieve their educational and career goals in two years or less. We offer associate degree and certificate programs, workforce development programs and transfer pathways to four-year degrees. For more information, please visit us online at tncommunitycolleges.org.
# # #