Nov 25, 2015
Pryor Art Gallery to Host 50th Anniversary Exhibit, Book Release and Signing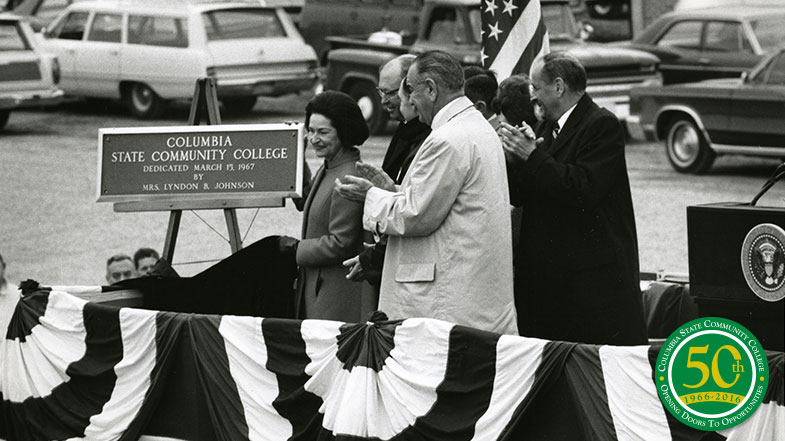 Photo Caption: Lady Bird Johnson dedicated the new Columbia State Community College campus March 15, 1967, with her husband, President Lyndon B. Johnson by her side.
(COLUMBIA, Tenn. - Nov. 25, 2015) - - - In honor of the college's semicentennial anniversary, Columbia State Community College's Pryor Art Gallery is hosting a 50th Anniversary exhibit during the month of December. The exhibit will feature many artifacts of the time and reflect on the formative years of the college as well as the pop culture, fashion, music and technology that impacted the 1960s.
"We have put this exhibit together in honor of Columbia State's first 50 years," said Michele Wilkinson, Pryor Art Gallery curator. "Many items featured in the book are part of the exhibit, so people will get to see them up close and personal. I want to encourage everyone to come out to the gallery to experience the history of Columbia State."
On Dec. 3, the college will be releasing its 50th Anniversary commemorative book titled "Opening Doors to Opportunities: Columbia State Community College, the First Fifty Years." Dr. Janet F. Smith, Columbia State president, and the authors of the book will be on hand to sign the book during a reception from 5:30 - 7 p.m. in the gallery.
The book was written by Columbia State faculty and staff, including Dr. Barry Gidcomb, Brittany Hall, Beverly Mitchell, Anne Scott, Holly Tkaczyk and Bob Trybalski. Copies of the book are $30 and will be available for purchase.
By popular demand, a portion of the gallery's November exhibit, "Ordinary People…Extraordinary Artists," will remain on display. The exhibit features local and nationally celebrated artists displaying a great range of styles and media from abstract expressionism to photo-realism. Artists include Anne Carothers, Margaret Dyer, Shirley Fachilla, AJ Holmes, Helli Luck, Edie Maney, Dawn Whitelaw and John Wilkison.
For detailed information related to the exhibit, please contact Wilkinson at 931.540.2883 or mwilkinson2@ColumbiaState.edu.
The Pryor Art Gallery is in the Waymon L. Hickman Building on the Columbia Campus, located at 1665 Hampshire Pike. The gallery is open and free to the public Monday through Thursday, 8 a.m. - 5 p.m. and Friday from 8 a.m. - 4 p.m. Please visit www.ColumbiaState.edu/PryorGallery for additional information.
To learn more about Columbia State's history and upcoming events visit www.ColumbiaState.edu/50Years. Alumni and community members are encouraged to share their favorite Columbia State memories by emailing 50Years@ColumbiaState.edu.
Columbia State is a two-year college, serving a nine-county area in southern Middle Tennessee with locations in Columbia, Franklin, Lawrenceburg, Lewisburg and Clifton. As Tennessee's first community college, Columbia State is committed to increasing access and enhancing diversity at all five campuses. Columbia State is a member of the Tennessee Board of Regents, one of the largest higher education systems in the nation. For more information, please visit www.columbiastate.edu.
Tennessee's Community Colleges is a system of 13 colleges offering a high-quality, affordable, convenient and personal education to prepare students to achieve their educational and career goals in two years or less. We offer associate degree and certificate programs, workforce development programs and transfer pathways to four-year degrees. For more information, please visit us online at tncommunitycolleges.org.
# # #