Aug 17, 2015
Columbia State Kicks Off 50th Anniversary With Red Carpet Event, Documentary Film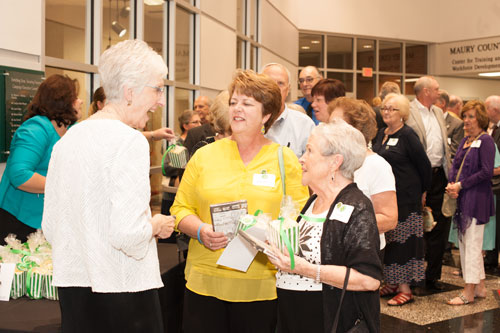 Photo Caption: Dr. Rebecca Hawkins, president emeritus (left), talks with Bonnie Rodgers (center) and Lil Moore (right) as she passes out popcorn and copies of the documentary, "Red Letter Day in the Life of Maury County."

(COLUMBIA, Tenn. - Aug. 13, 2015) - - - Dr. Rebecca Hawkins, president emeritus, and Columbia State Community College kicked off the college's 50th anniversary celebration on Tuesday, Aug. 11 with a red carpet event and documentary film that captured the untold stories of students, faculty and staff, and community members who were part of Columbia State's startup and dedication. The documentary film highlights the college's startup between June 1965 and June 1967.
"I got the idea for 'Red Letter Day in the Life of Maury County' when I first came to the community in 1996," Hawkins recalled. "I would meet people throughout the service area, and they would tell me how they were at the campus when Lady Bird and President Lyndon B. Johnson came to dedicate the college. I kept hearing that story again and again."
In time, Hawkins explained that she began thinking and then telling people, "Someday, when I retire, I am going to do an oral history of the college - only one day in the life of the college, the day the Johnsons were here."
Hawkins said she was delighted that so many people shared their stories with her to make this documentary possible. She noted that she captured some of their stories in recorded interviews. She also listened to other stories and remembrances through sidewalk, sit-down, telephone and email conversations. She said she did her best to capture their fond memories and reflections for all to enjoy.
"It's the people who were there in the beginning whose stories and reflections provide such a rich insight," Hawkins said. "Their stories have gone undocumented until now. Their stories are not found in newspaper coverage, recorded in history books or found in archives. Their stories have been stored up for years in their minds."
Hawkins noted that it took close to 100 people willing to share their stories in interviews, as well as share their memorabilia and other treasures to make the documentary possible. The film features Columbia State first-year students, original faculty and staff, and community members who were present the day the Johnsons visited Columbia. It was these people who were guests at the red carpet event and preview party.
"We are not just celebrating a day or an event in the history of Columbia State," said Dr. Janet F. Smith, Columbia State president. "We are celebrating a day and an event that is part of making Columbia State what it is as a leader in the state of Tennessee and also in the nation."
Smith explained that President Johnson was a supporter of community colleges and that the 1960s were a time when higher education was a high priority across the nation, much as it is today.
"I thank Dr. Hawkins for the work she has done to produce this documentary film so that the legacy, the history and the glory of that day continues to live," Smith said. "The "Red Letter Day" was a day we celebrated individuals, opportunities and possibilities."
Hawkins recognized several individuals for their work on the project, including Bob Trybalski, film director and Columbia State media services coordinator; Bill Williams, videographer, film editor and Columbia State electronic media technician; Anne Scott, librarian and archivist; Barry Gidcomb, film historian and Columbia State professor of history; and Kevin Kilpatrick, film narrator and member of Lawrenceburg Community Theatre.
Interviewees and contributors to the documentary were invited to the event for a sneak peek of the film. Also in attendance was Dr. Warren Nichols, Tennessee Board of Regents vice chancellor, as well as TBR board members Emily Reynolds, vice chair, Fran Marcum, 4th congressional district, and Bob Thomas, 5th congressional district.
Smith and Hawkins were joined by Dr. Harold Pryor, Columbia State's first president. Family members of Dr. James Clark, Columbia State's first dean and chief administrator, were also in attendance.
Hawkins will be touring Columbia State's nine-county service area to show the documentary to community organizations. To schedule a showing of the full documentary or 12-minute trailer, contact Hawkins via email at rhawkins@charter.net.
In addition, copies of the documentary will be donated to public libraries and county archives in the college's service area and will be available at each of Columbia State's five campuses. The 12-minute trailer can be viewed online at https://youtu.be/RLO3QG-5N-U.
To learn more about Columbia State's history and upcoming events visit www.ColumbiaState.edu/50Years. Alumni and community members are encouraged to share their favorite Columbia State memories by emailing 50Years@ColumbiaState.edu.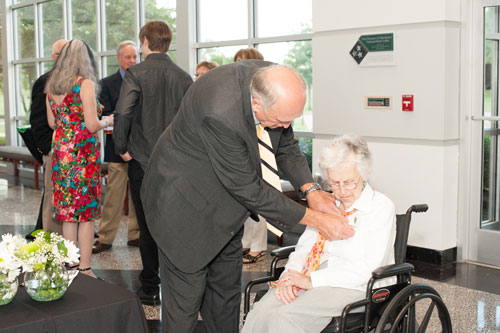 Photo Caption: Ed Harlan, Tennessee Department of Agriculture assistant commissioner for market development, pins a Columbia State 50th anniversary pin on his mother, Jean Harlan.

Photo Caption: Pictured, left to right: Eddie Ables, Lea Ables, Barbara McIntyre, Johnny Earwood, and Janet Earwood.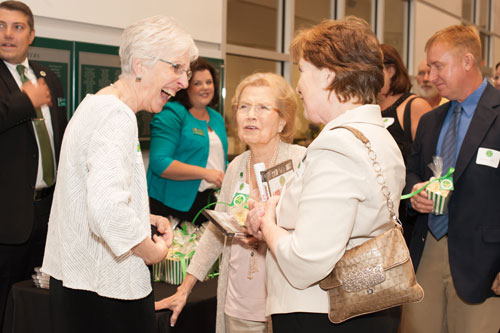 Photo Caption: Dr. Rebecca Hawkins (left) laughs with Polly Stanton (center) and Julie Bragg (right) after the preview of "Red Letter Day in the life of Maury County" and thanks them for coming.
Columbia State is a two-year college, serving a nine-county area in southern Middle Tennessee with locations in Columbia, Franklin, Lawrenceburg, Lewisburg and Clifton. As Tennessee's first community college, Columbia State is committed to increasing access and enhancing diversity at all five campuses. Columbia State is a member of the Tennessee Board of Regents, one of the largest higher education systems in the nation. For more information, please visit www.columbiastate.edu.
Tennessee's Community Colleges is a system of 13 colleges offering a high-quality, affordable, convenient and personal education to prepare students to achieve their educational and career goals in two years or less. We offer associate degree and certificate programs, workforce development programs and transfer pathways to four-year degrees. For more information, please visit us online at tncommunitycolleges.org.
# # #