May 06, 2015
Columbia State Vet Tech Graduates Pinned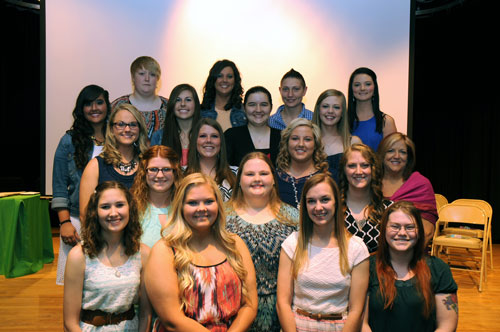 Photo Caption: First row, left to right: Lesley Keaton, Emily Burkhart, Chelsee Allen and Jessica Loughead. Second row, left to right: Beverly Smith, Hannah Keeter and Carrie Marino. Third row, left to right: Jill Burns, Jamie Allen, Kara Kephart and Sharon Dockins. Fourth row, left to right: Megan Sanders, Heather Hughey, Emily Pierce and Cammy Williams. Fifth row, left to right: Carrie Cowan, Maci Bates, Andrea Dickey and Hailey Compton.
(COLUMBIA, Tenn. - May 6, 2015) - - -
Columbia State Community College honored 19 veterinary technology program graduates in a pinning ceremony Saturday, May 2.
"This class has shown so much compassion towards animals. We never knew what the student's might bring in on any given day, from kittens to birds, to rescued dogs," said Dr. Nicole Richards, director of the vet tech program. "I'm so proud of them and wish them the best of luck."
Richards, along with Kathy Massey and Stephanie Doss, both licensed veterinary medical technicians, pinned the Associate of Applied Science degree candidates.
"The veterinary technician students benefit from amazing hands-on experiences which allow completers to function effectively in myriad professional settings, using a passion for caring for animals in ways which can make work much less like work," said Kae Fleming, dean of Columbia State Health Sciences Division and professor of radiologic technology.
A veterinary technician primarily functions as professional technical support to veterinarians, biomedical researchers and other scientists. Qualified veterinary technicians are responsible for clinical pathology, radiology, surgical assisting, office and hospital management, and other related duties.
Columbia State has one of only five vet tech programs in the state of Tennessee. This program is accredited by the American Veterinary Medical Association and offers students the opportunity to become a veterinary technician and receive an A.A.S. degree. For additional information, visit http://www.columbiastate.edu/veterinary-technology.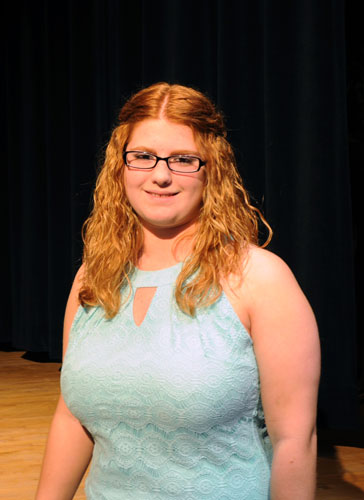 Photo Caption: Beverly Smith, Hohenwald resident.

Photo Caption: Emily Burkhart, Murfreesboro resident.

Photo Caption: Megan Sanders, Lewisburg resident.

Photo Caption: Left to right: Cameron Williams, Columbia resident, and Lesley Keaton, Spring Hill resident (Maury County).

Photo Caption: Left to right: Maci Bates, Hurricane Mills resident, and Heather Hughey, Waverly resident.

Photo Caption: Left to right: Sharon Dockins, Nashville resident, and Chelsee Allen, Brentwood resident (Davidson County).

Photo Caption: Andrea Dickey, Pulaski resident and 2015 graduate of Columbia State's veterinary technology program, received the Clinical Excellence Award at the programs' pinning ceremony on Saturday, May 2. Andrea has been offered one of four positions in the veterinary technology internship program at the University of Tennessee's College of Veterinary Medicine, which she will begin in June of this year.

Photo Caption: Left to right: Jamie Allen, Franklin resident, and Jillian Burns, Thompsons Station resident.

Photo Caption: Kara Kephart, Collinwood resident.

Photo Caption: Carrie Cowan, Dickson resident.

Photo Caption: Carrie Marino, Germantown resident.

Photo Caption: Left to right: Emily Pierce, Lawrenceburg resident; Hannah Keeter, Lawrenceburg resident; Jessica Loughead, Iron City; and Hailey Compton, Leoma resident.
Columbia State is a two-year college, serving a nine-county area in southern Middle Tennessee with locations in Columbia, Franklin, Lawrenceburg, Lewisburg and Clifton. As Tennessee's first community college, Columbia State is committed to increasing access and enhancing diversity at all five campuses. Columbia State is a member of the Tennessee Board of Regents, one of the largest higher education systems in the nation. For more information, please visit www.columbiastate.edu.
Tennessee's Community Colleges is a system of 13 colleges offering a high-quality, affordable, convenient and personal education to prepare students to achieve their educational and career goals in two years or less. We offer associate degree and certificate programs, workforce development programs and transfer pathways to four-year degrees. For more information, please visit us online at tncommunitycolleges.org.
# # #