May 05, 2015
Sigma Kappa Delta Members Attended Inspiring Convention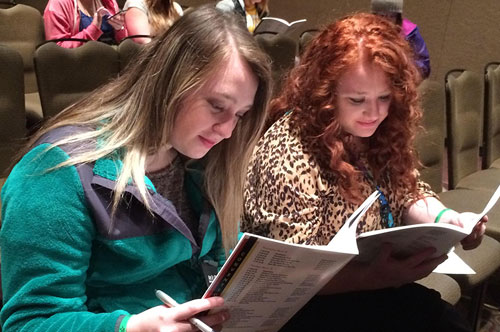 Sisters, Amy and Stephanie Hubbard, look through the SKD convention brochure to chose their next session.
(Columbia, Tenn. - April 20, 2015) Columbia State Community College's Sigma Kappa Delta members recently attended a special convention hosted by SKD's parent organization, Sigma Tau Delta.
This year's convention, themed Borderlands and Enchantments, was a culmination for two students who have worked hard throughout the year to learn more about the English language, build valuable relationships and improve areas of their lives.
Sisters, Amy and Stephanie Hubbard, president and vice-president of SKD, respectively, attended the convention and appreciated the opportunities given to them.
"The SKD convention was an amazing experience and it opened my eyes to how beautiful and varied the English language can be," Amy Hubbard said. "It was truly inspirational to hear the guest speakers talk about their writing. It was a priceless experience."
Both sisters attended several leadership workshops and networking events where they had the opportunity to meet hundreds of members, not only from Tennessee, but from across the globe as well. They also attended several creative writing workshops which gave them the opportunity to share their original works.
"On this adventure, I've made so many new friends and have built so many new relationships," Stephanie Hubbard said. "I also got to meet students from different community colleges and universities. This was a great learning experience, and I would recommend this to any individual."
In the evenings, they were exposed to critically acclaimed authors, Gary Soto, former Pulitzer Prize nominee; Simon Oriz, Pushcart Prize winner; and Leslie Marmon Silko, considered one of the great masters of Native American literature . Each of these authors spoke about their life experiences and how that has affected their writing.
"I enjoyed being able to interact with so many college students, faculty and staff who share a love of literature and scholarship," said Brittany Hall, assistant professor of English and SKD adviser. "I am thankful Columbia State afforded Stephanie and Amy the opportunity to attend this conference in New Mexico, where they were completely immersed in the arts."
SKD is an English honor society for community colleges and its purpose is to recognize high achievement in the English language and literature.
Columbia State is a two-year college, serving a nine-county area in southern Middle Tennessee with locations in Columbia, Franklin, Lawrenceburg, Lewisburg and Clifton. As Tennessee's first community college, Columbia State is committed to increasing access and enhancing diversity at all five campuses. Columbia State is a member of the Tennessee Board of Regents, one of the largest higher education systems in the nation. For more information, please visit www.columbiastate.edu.
Tennessee's Community Colleges is a system of 13 colleges offering a high-quality, affordable, convenient and personal education to prepare students to achieve their educational and career goals in two years or less. We offer associate degree and certificate programs, workforce development programs and transfer pathways to four-year degrees. For more information, please visit us online at tncommunitycolleges.org.