Apr 24, 2015
Columbia State Building Community of Volunteerism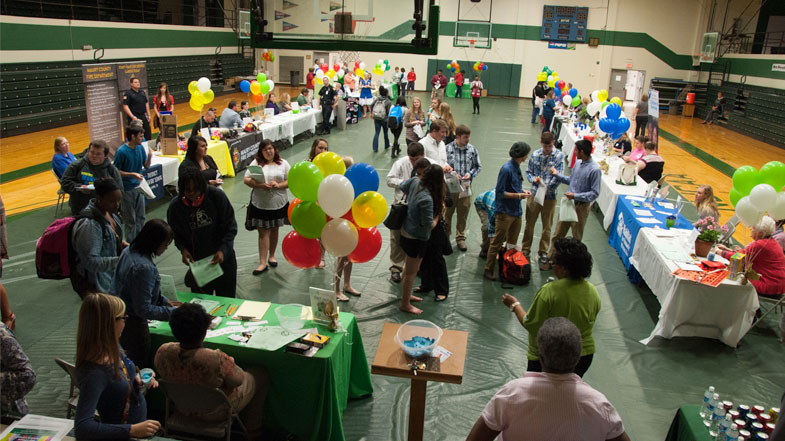 Photo Caption: The Volunteerism Fair was held in conjunction with National Volunteerism Week. More than 350 Inspiration Guide Books were handed out to students at the fair, high school students at that evenings the TN Achieves meeting on campus, and to the volunteers and community organizations participating at fair.
(COLUMBIA, Tenn. - April 24, 2015) - - -
In an effort increase community and student volunteerism, Columbia State Community College's Office of Access and Diversity, in conjunction with its Service Corps of Higher Education Volunteers, recently held its first Community Volunteerism Fair.
"The college hosted this event in order to continue building lasting relationships with those agencies that have long term partnerships and support from volunteers," said Dr. Christa Martin, assistant to the president for access and diversity. "As we continue to enhance our programming in support of student engagement, retention and success, we encourage the community to volunteer at Columbia State."
Nearly 30 organizations were in attendance, bringing approximately 50 volunteers to share information about their organization and discuss with students the different volunteer opportunities and the impact it could have on the community and their education.
"The Pilot Club of Hohenwald enjoyed participating in the Volunteerism Fair. This is the most exposure we have gotten in quite a while," said Janet Williams, Pilot International, Tennessee district membership team. "It was fantastic, and we really appreciated the invitation."
Other organizations in attendance included Boys and Girls Club of Maury County, CASA of Maury County, Center of Hope, and The Family Center, Habitat for Humanity, as well as Maury County Parks and Recreation, Maury County Police Department, Maury County Fire Department, Maury Magic Riders, Keep Maury Beautiful and many others.
There were more than 130 high school students in attendance from Forrest High School in Lewisburg, and Zion Christian Academy and Hampshire Unit School in Columbia, along with nearly 150 students, faculty and staff from Columbia State who stopped in to learn about volunteer opportunities.
The Community Volunteerism Fair and the Service Corps program were made possible through the Tennessee Board of Regents Student Engagement, Retention and Success Grant for 2014-2015. The purpose of this project is to develop, implement and formalize a Service Corps for Higher Education Volunteers Program as an integral part of Columbia State's goals of increasing student retention, success and graduation rates, with emphasis on underrepresented populations, including minorities, the economically disadvantaged and adults.
Columbia State is a two-year college, serving a nine-county area in southern Middle Tennessee with locations in Columbia, Franklin, Lawrenceburg, Lewisburg and Clifton. As Tennessee's first community college, Columbia State is committed to increasing access and enhancing diversity at all five campuses. Columbia State is a member of the Tennessee Board of Regents, one of the largest higher education systems in the nation. For more information, please visit www.columbiastate.edu.
Tennessee's Community Colleges is a system of 13 colleges offering a high-quality, affordable, convenient and personal education to prepare students to achieve their educational and career goals in two years or less. We offer associate degree and certificate programs, workforce development programs and transfer pathways to four-year degrees. For more information, please visit us online at tncommunitycolleges.org.
# # #