Apr 17, 2015
Columbia State and Centennial Host WIT Center of Excellence Open House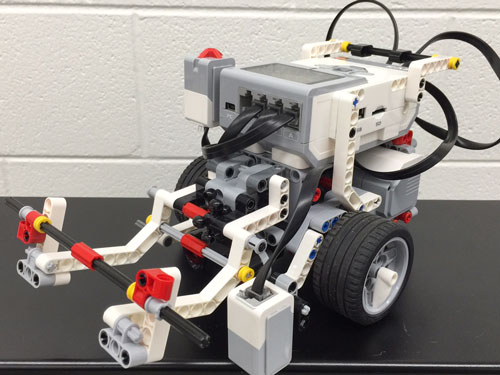 Photo Caption: Pictured is one of the robots just like the ones built by students in Alan Fisher's robotics class in the WIT Center of Excellence at Centennial High School.

Photo Caption: Alan Fisher is also a member of the Williamson County Technology Advisory Committee. He also scheduled to help teach code to the coding club at the Woodland Middle School in Brentwood.
(COLUMBIA, Tenn. - April 17, 2015) - - - Columbia State Community College and Centennial High School held an open house Friday, April 10 to celebrate the first two semesters of the Williamson Information Technology Center of Excellence. The WIT Center opened its doors and began the year with courses such as computer applications, robotics, mobile app design and computer science AP - Java 1 and 2.
"Students from Centennial and Franklin High Schools had the opportunity to take classes for college or high school credit," said Dr. Leigh Webb, Centennial High School principal. "We're very excited about this complete program track. We've rotated and evolved from taking classes in isolation to really developing a full-blown IT program at Centennial."
Webb shared a labor market analysis of Williamson County, showing 210 current annual openings with an anticipated 20.8 percent increase in IT openings by 2021.
Students who complete the IT track at Centennial can then attend Columbia State where they can complete an Associate of Applied Science degree in information systems technology and go straight into the workforce. Students can also choose an Associate of Science degree program in information systems, which can transfer to a university where they can continue their studies toward a bachelor's degree.
"We're trying to build interest in young students for IT as a career pathway," said Dearl Lampley, dean of the Columbia State science, technology and mathematics division.
Lampley explained that there are currently more than 800 unfilled IT jobs in the metro area, the pool of local employees is exhausted, and IT people are rotating from company to company or are being brought in from other states to fill these positions.
Alan Fisher, Columbia State associate professor of computer information systems, began teaching robotics at Centennial in the fall and is glad to see students interested and excited in the classroom.
"Out of the 10 students I started with, only two had any programming experience," Fisher said. "This has been a great opportunity to put all of this together. They learned to program on the spot, and overall, they did a fantastic job."
Dr. Janet F. Smith, Columbia State president, explained the partnership was initiated to increase access to IT programs and courses. She noted that IT is a field in which there is a significant need among area businesses for professionals with these skills and knowledge. Providing these opportunities for learning in the high school exposes students to an exciting field that they may not have previously considered for their occupation.
"You have exceeded the vision, this lab, this space, the program track, the partnership for student learning, and I am impressed," Smith commented. "This lab, this learning opportunity could not have happened if it were not for such a great partnership between Centennial High School, Williamson County Schools and Columbia State."
Also in attendance were Dr. Charles Farmer, Williamson County Schools assistant superintendent secondary schools; Dr. Ken Moore, Franklin mayor; Rick Wimberly, WCS board member, ninth district; as well as Columbia State officials, Centennial High School officials, WIT Center students and other community members.
Students can choose to take courses as electives as part of the 3-year track that fulfills the Tennessee high school graduation requirements, including several courses through Columbia State's dual enrollment program. This will allow students to earn both high school and college credits simultaneously.
The WIT Center is made possible by funding from Columbia State. The classroom has 28 iMacs and state-of-the-art software to prepare students for IT careers. In addition to the iMac computers and software, the center houses a large, interactive teacher workstation and four large TV screens to maximize teachable space.


Columbia State is a two-year college, serving a nine-county area in southern Middle Tennessee with locations in Columbia, Franklin, Lawrenceburg, Lewisburg and Clifton. As Tennessee's first community college, Columbia State is committed to increasing access and enhancing diversity at all five campuses. Columbia State is a member of the Tennessee Board of Regents, one of the largest higher education systems in the nation. For more information, please visit www.columbiastate.edu.
Tennessee's Community Colleges is a system of 13 colleges offering a high-quality, affordable, convenient and personal education to prepare students to achieve their educational and career goals in two years or less. We offer associate degree and certificate programs, workforce development programs and transfer pathways to four-year degrees. For more information, please visit us online at tncommunitycolleges.org.
# # #