Feb 25, 2015
Pryor Gallery Exhibits Maury County Elementary School Artwork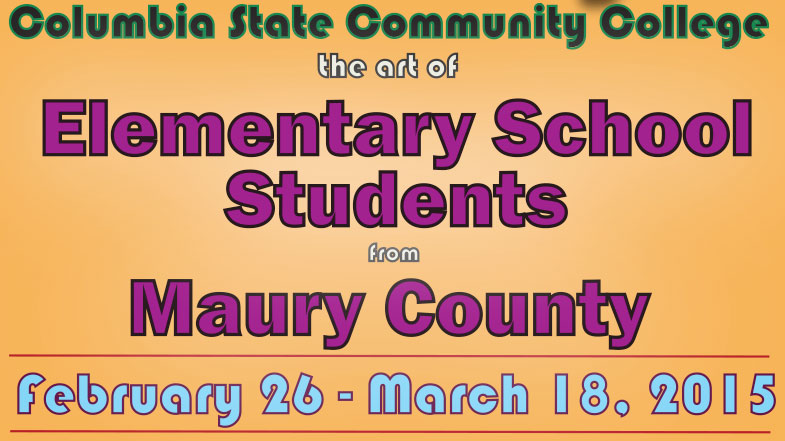 **Updated 3/6/15 - The Maury County Elementary School artists' reception will be rescheduled to Fri., March 13 from 4-6 p.m.


(COLUMBIA, Tenn. - Feb. 25, 2015) - - -
Columbia State Community College's Pryor Art Gallery will feature the artwork of Maury County elementary school students beginning Feb. 26 and will host an artists' reception March 13 from 4-6 p.m.
"The Pryor Art Gallery is looking forward to another colorful and creative exhibit from the elementary school students of Maury County," said Rusty Summerville, Pryor Art Gallery curator. "This annual exhibit, which is always filled with spectacular and plentiful color, is coupled with the never-ending imagination of these wonderful young artists."
The exhibit will feature a variety of artwork from students who attend Riverside Elementary School, J.E. Woodard Elementary School, Mt. Pleasant Elementary School and Zion Christian Academy, as well as other elementary schools in Maury County. The exhibit will run through March 18, and parents, family and friends of the students are invited to attend the reception.
The Pryor Gallery is located in the Waymon L. Hickman building on the Columbia campus. The gallery is open and free to the public Monday through Thursday, 8 a.m. - 5 p.m. and Friday from 8 a.m. - 4 p.m. Please visit www.ColumbiaState.edu/PryorGallery for additional information.

Photo Caption: Hannah Warf - 3rd grade - Santa Fe Unit School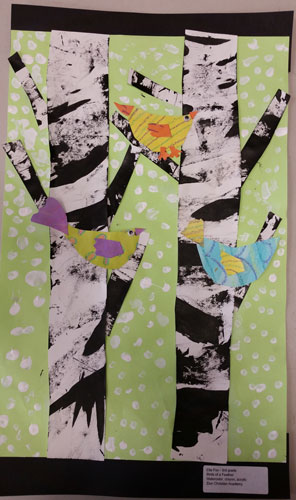 Photo Caption: Ella Fox - 3rd Grade - Zion Christian Academy
Photo Caption: Cedric Sanderford - 3rd Grade - Riverside Elementary
Columbia State is a two-year college, serving a nine-county area in southern Middle Tennessee with locations in Columbia, Franklin, Lawrenceburg, Lewisburg and Clifton. As Tennessee's first community college, Columbia State is committed to increasing access and enhancing diversity at all five campuses. Columbia State is a member of the Tennessee Board of Regents, one of the largest higher education systems in the nation. For more information, please visit www.columbiastate.edu.
Tennessee's Community Colleges is a system of 13 colleges offering a high-quality, affordable, convenient and personal education to prepare students to achieve their educational and career goals in two years or less. We offer associate degree and certificate programs, workforce development programs and transfer pathways to four-year degrees. For more information, please visit us online at tncommunitycolleges.org.
# # #