Jan 28, 2015
AiiT Program Receives ATMAE Accreditation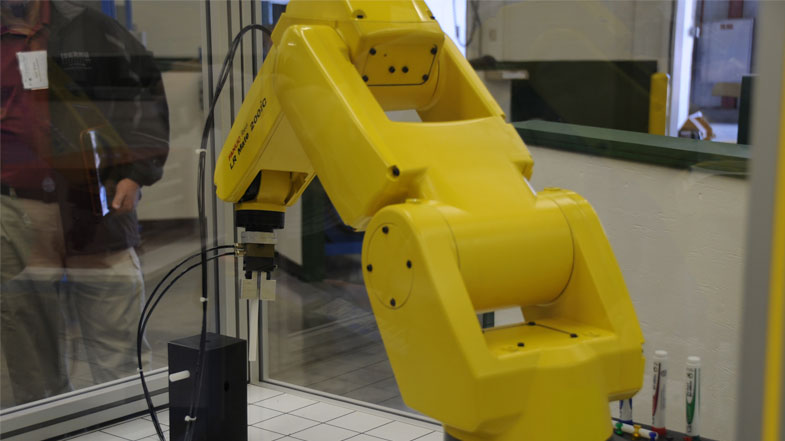 (COLUMBIA, Tenn. - Jan. 28, 2015) - - -
Columbia State Community College's Advanced Integrated Industrial Technology degree program at the Northfield Workforce Development and Conference Center has received accreditation from the Association of Technology, Management and Applied Engineering.
"This accreditation provides assurance to employers that our program is up to date and provides graduates with the correct skill sets to match their needs," said Dearl Lampley, dean of the science, technology and mathematics division. "It also serves as a validation to the community as to the commitment Columbia State has to providing excellent educational opportunities for our students."
The increase of manufacturing companies and jobs in Tennessee has prompted a demand for qualified employees to fill those positions. Although the automotive manufacturers and their suppliers are dominant in the area, manufacturers are broad-based and include food and household items.
Lampley noted that potential employers can visit the Northfield site to meet current students who are available for hire. Employers can also tour the facility to see if it is where they want to send their current employees.
"It is more expensive for employers to own the proper equipment and train employees on site than it is to send them to us," Lampley explained. "Through this program, we are able to provide employers with qualified employees, in addition to training for their existing workforce."
The basic disciplines incorporated in the program are electricity, hydraulics, pneumatics and robotics. These areas are integrated into a systems approach as the course work progresses, and students are challenged with critical thinking scenarios throughout the curriculum.
Students who enter the two-year Associate of Applied Science degree program can choose from two options, Mechatronics or multi-skilled technician. The Mechatronics option has a production focus, while the multi-skilled technician option trains students in the repair and service aspects of manufacturing.
In addition to Lampley, the Columbia State accreditation team included Joni Lenig, associate vice president of faculty, curriculum and programs; Tammy Borren, director of planning and institutional effectiveness; John Woodason, former AiiT program director; and Sandra Serkownek, business and technology professor and interim AiiT director.
"This team did an outstanding job. In fact, our proposal was of the caliber that we were granted accreditation at the earliest possible stage in the program with very minimal findings for corrective action and the site visit team said this would be a model program for others to emulate," Lampley commented.
ATMAE is a national independent accrediting agency that consists of independent volunteers from other accredited institutions and focuses on education, course content and development, and advising. ATMAE sets the standard for applied engineering, management and technology programs through guidelines, credentials, curriculum and safety.
Anyone interested in the AiiT program can visit www.ColumbiaState.edu/AiiT, or contact Lampley at (931) 540-2678 or dlampley@ColumbiaState.edu. To apply for admission, visit www.ColumbiaState.edu/Admissions.
Columbia State is a two-year college, serving a nine-county area in southern Middle Tennessee with locations in Columbia, Franklin, Lawrenceburg, Lewisburg and Clifton. As Tennessee's first community college, Columbia State is committed to increasing access and enhancing diversity at all five campuses. Columbia State is a member of the Tennessee Board of Regents, one of the largest higher education systems in the nation. For more information, please visit www.columbiastate.edu.
Tennessee's Community Colleges is a system of 13 colleges offering a high-quality, affordable, convenient and personal education to prepare students to achieve their educational and career goals in two years or less. We offer associate degree and certificate programs, workforce development programs and transfer pathways to four-year degrees. For more information, please visit us online at tncommunitycolleges.org.
# # #