Jan 20, 2015
Beam Tour Begins Week at Williamson Campus
(COLUMBIA, Tenn. - Jan. 20, 2015)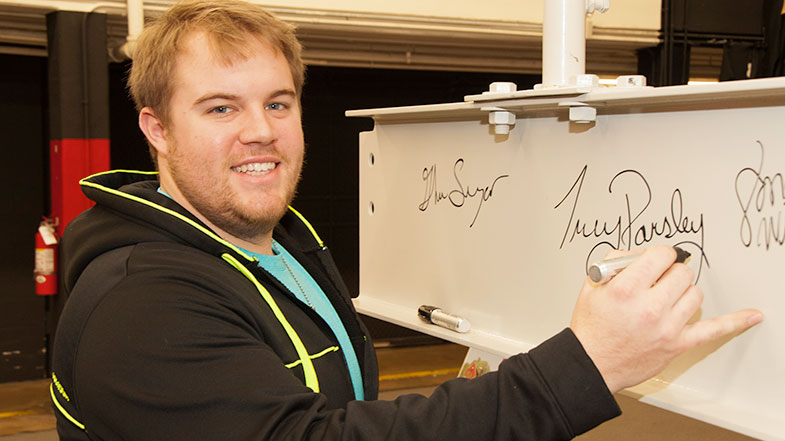 Trey Parsley of Smyrna, 1st semester nursing student.

Franklin resident and freshman astronomy and physics major, Gabriel Criss was the first student to sign the beam at the current Williamson Campus on Tuesday, Jan. 20, the first day of the spring 2015 semester.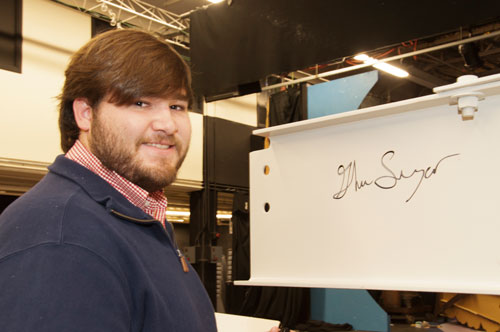 Graham Sawyer, Franklin resident and business major, adds his signature to the beam that will mark the highest point on the new Williamson Campus.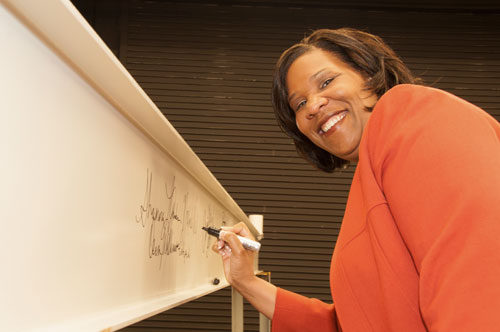 Shanna Jackson, dean of the Williamson Campus and extended services, leaves her mark on the beam that will tour Williamson County this week as it collects signatures before resting at the new location on Liberty Pike.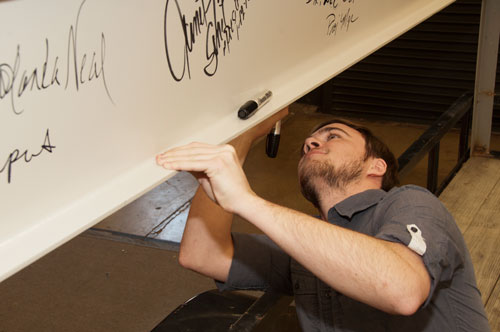 Film crew technology student, Max Sechrest adds his signature to the bottom of the beam. The final beam will be hoisted and placed atop the student services and administration building at the new campus during a traditional topping out ceremony that will take place in mid-February.

Carrie Grader of Fairview, 3rd semester nursing student.

Sherron Trimble, learning support adjunct faculty at the Williamson Campus.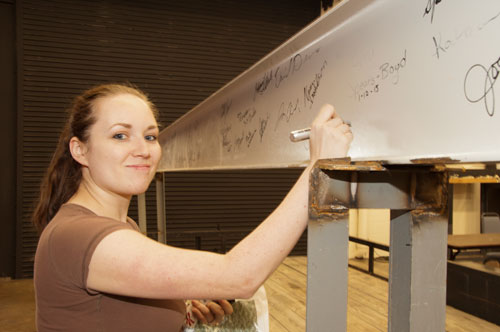 Jessica Williams of White Bluff, 1st semester nursing student.

Preston Phillips, film crew technology instructor.

Columbia State is a two-year college, serving a nine-county area in southern Middle Tennessee with locations in Columbia, Franklin, Lawrenceburg, Lewisburg and Clifton. As Tennessee's first community college, Columbia State is committed to increasing access and enhancing diversity at all five campuses. Columbia State is a member of the Tennessee Board of Regents, one of the largest higher education systems in the nation. For more information, please visit www.columbiastate.edu.
Tennessee's Community Colleges is a system of 13 colleges offering a high-quality, affordable, convenient and personal education to prepare students to achieve their educational and career goals in two years or less. We offer associate degree and certificate programs, workforce development programs and transfer pathways to four-year degrees. For more information, please visit us online at tncommunitycolleges.org.
# # #