Oct 07, 2014
Columbia State Takes a Stand Against Domestic Violence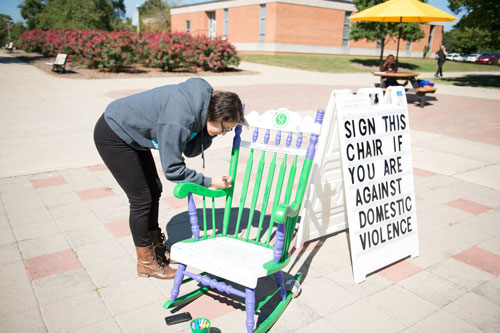 Photo Caption: Freshman engineering major, Marlene Garcia signs the chair to symbolize her stand against domestic violence.
In an effort to support awareness and education of domestic violence, Columbia State faculty, staff and students signed and decorated a rocking chair, participating in an initiative hosted by the General Federation of Women's Clubs Spring Station Woman's Club.
"It was exciting to see that so many people signed the chair," said Dr. Christa Martin, assistant to the president for access and diversity. "More than 312 people added their names to the chair, so I am confident that we expanded awareness of domestic violence across the campus."
In ongoing efforts to support the Center of Hope domestic violence center in Columbia, the GFWC hosted the "Amethyst Affair - Art, Auction and Awareness," a large fundraising event that took place Friday, Oct. 3 at the UAW Union Hall in Spring Hill. Chairs decorated by community members were auctioned off during the "Don't Just Sit There, Take a Stand Against Domestic Violence" live auction during Friday's event.
GFWC Spring Station Woman's Club is a nonprofit organization with a mission to enhance communities through volunteer service. In addition, GFWC has earned a reputation as a powerful force in the fight against domestic violence. Formerly known as Hope House, Center of Hope is the only agency dedicated to combating domestic abuse, sexual violence and stalking in Maury County. Services range from crisis intervention to long-term case management.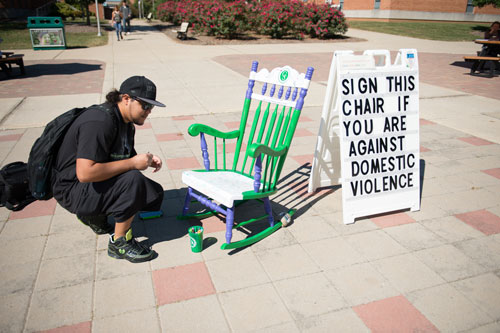 Photo Caption: A.J. Torres, freshman business major, gets ready to sign his name in support of domestic violence awareness.
Photo Caption: Signing her name to the chair, freshman criminal justice major, Melanie Kash expresses her awareness of the negative impact that domestic violence has on victims, their families and the community.