Jun 11, 2014
Foundation Announces Distinguished Alumni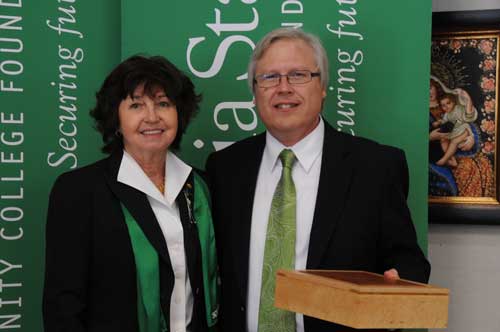 Photo Caption:
Dr. Janet F. Smith presents Dr. Barry Gidcomb with a specially crafted and engraved wooden keepsake box in honor of his Distinguished Alumni award.
(COLUMBIA, Tenn. - June 11, 2014) - - - Dr. Barry Gidcomb was honored at the Columbia State Community College Foundation's annual award luncheon today, receiving the highest honor bestowed upon alumni.
Selected by Dr. Janet F. Smith, Columbia State president, Gidcomb was awarded the 2014 President's Award of Honor for Distinguished Alumni for his outstanding service to Columbia State. A 1978 graduate of the college, he continued his education at Middle Tennessee State University where he earned a bachelor's and a master's degree in history. In 2000, Gidcomb earned a doctorate in history from Illinois State University. He is a full professor of history at Columbia State.
"Barry Gidcomb has exemplified the true meaning of alum with his sustained engagement, leadership throughout the college, and dedication to the community and the preservation of its history," Smith said. "He has truly demonstrated to students and alumni what can be accomplished with a Columbia State degree."
Serving as evening coordinator for the college from 1985 to 1992, Gidcomb then joined the history faculty in 1992 and has been division chair and department lead faculty. He has also received the Distinguished Faculty Award and the President's Medal. After serving as Columbia State's faculty senate president from 2008-2010, Gidcomb was appointed faculty representative to the Tennessee Board of Regents from 2010-2011.
As a faculty member, Gidcomb introduced the two-year college honors society, Phi Theta Kappa, to Columbia State and was its sponsor for nine years. While working closely with honors level classes, he has led many groups of students on weekend excursions down the Natchez Trace with stops along the journey to examine the artifacts and remains of the Trace's history.
In the community, Gidcomb is an active speaker with the Polk's America discussion group and serves on the board of Rippavilla Plantation. Beyond the Columbia area, Gidcomb made several summer visits to Haiti, where he demonstrated the quality and compassion of a Columbia State alumnus by supporting the building of new schools for children after the horrific 2010 earthquake.
"Dr. Gidcomb is a colleague we look up to. We see his commitment to Columbia State and its students every day in his office, his classes, his support of food drives and many other activities," said Beverly Mitchell, professor of English. "He is proud of being an alumnus of the college and gives back to the school more than 100 percent of his time and energy."
Columbia State is a two-year college, serving a nine-county area in southern Middle Tennessee with locations in Columbia, Franklin, Lawrenceburg, Lewisburg and Clifton. As Tennessee's first community college, Columbia State is committed to increasing access and enhancing diversity at all five campuses. Columbia State is a member of the Tennessee Board of Regents, one of the largest higher education systems in the nation. For more information, please visit www.columbiastate.edu.
Tennessee's Community Colleges is a system of 13 colleges offering a high-quality, affordable, convenient and personal education to prepare students to achieve their educational and career goals in two years or less. We offer associate degree and certificate programs, workforce development programs and transfer pathways to four-year degrees. For more information, please visit us online at tncommunitycolleges.org.
# # #