May 22, 2014
Columbia State Pins Vet Tech Graduates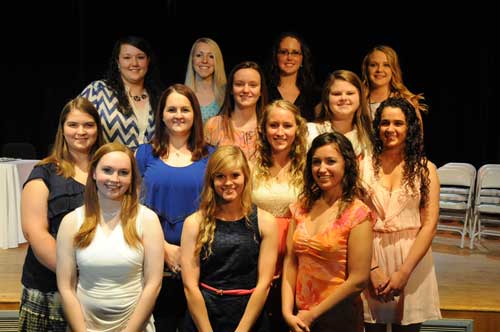 Pictured:
Row one: Emily McGee (Collierville), Kristen Adams (Wartrace), and Shelby Merchant (Elberta, AL). Row two: Susan Shelton (Dickson), Laura Provost (Brentwood), Kayla Bush (Lewisburg), and Kaitlyn Dowling (Columbia). Row three: Staci Barefoot (Dickson), and Laura Guye (Kingston Springs). Row four: Jodie Spencer (Dickson), Kamille Laws (Columbia), Brittany Frost (Savannah), and Jessica Dawson (Lewisburg).
(COLUMBIA, Tenn. - May 22, 2014) - - - Fourteen veterinary technology program graduates were honored in a pinning ceremony May 3 at Columbia State Community College.
"I am very proud of the veterinary technology class of 2014," said Nicole Richards, D.V.M., director of the vet tech program. "Each of these young women has worked extremely hard to get to this day. I hope each of them has a successful career in this field and I encourage them to continue pursuing their education."
Richards, along with Kathy Massey and Stephanie Doss, both licensed veterinary medical technicians, pinned the Associate of Applied Science degree candidates.
A veterinary technician primarily functions as professional technical support to veterinarians, biomedical researchers and other scientists. Qualified veterinary technicians are responsible for clinical pathology, radiology, surgical assisting, office and hospital management, and other related duties.
Columbia State has one of only three vet tech programs in the state of Tennessee. This program is accredited by the American Veterinary Medical Association and offers students the opportunity to become a veterinary technician and receive an A.A.S. degree. For additional information, visit http://www.columbiastate.edu/veterinary-technology.

Marshall County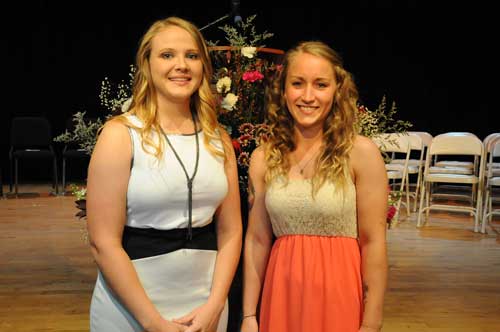 Pictured: Jessica Dawson and Kayla Bush.

Maury County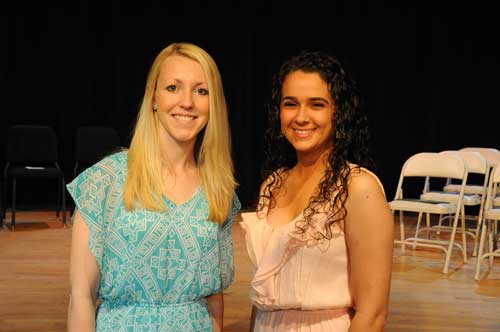 Pictured: Kaitlyn Dowling and Kamille Laws.

Dickson County


Pictured: Susan Shelton, Staci Barefoot, Jodie Spencer and Laura Guye.

Moore County


Pictured: Kristen Adams

Shelby County


Pictured: Emily McGee

Hardin County


Pictured: Brittany Frost

Baldwin County, AL


Pictured: Shelby Merchant

Williamson County


Pictured: Laura Provost. Not pictured: Heather K. Mendenhall.
Columbia State is a two-year college, serving a nine-county area in southern Middle Tennessee with locations in Columbia, Franklin, Lawrenceburg, Lewisburg and Clifton. As Tennessee's first community college, Columbia State is committed to increasing access and enhancing diversity at all five campuses. Columbia State is a member of the Tennessee Board of Regents, one of the largest higher education systems in the nation. For more information, please visit www.columbiastate.edu.
Tennessee's Community Colleges is a system of 13 colleges offering a high-quality, affordable, convenient and personal education to prepare students to achieve their educational and career goals in two years or less. We offer associate degree and certificate programs, workforce development programs and transfer pathways to four-year degrees. For more information, please visit us online at tncommunitycolleges.org.
# # #