May 21, 2014
Columbia State and WGU Tennessee Announce Partnership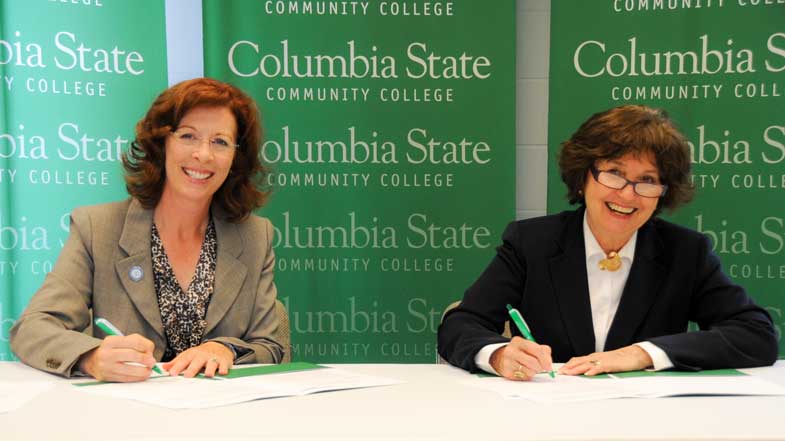 Photo Caption: Dr. Janet F. Smith, Columbia State Community College president, and Dr. Kimberly Estep, WGU Tennessee chancellor, signed an agreement today that will allow Columbia State graduates and staff the opportunity to transfer and apply their earned credits toward a bachelor's degree in business, education, information technology or nursing. Pictured left to right: Estep and Smith.
(COLUMBIA, Tenn. - May 21, 2014) - - - Columbia State Community College and WGU Tennessee have announced a new partnership that allows graduates and staff of Columbia State to receive discounted tuition to attend WGU Tennessee.
"Columbia State Community College has a reputation of excellence. We are delighted to announce a partnership that will be beneficial to their students and staff," said Dr. Kimberly K. Estep, WGU Tennessee chancellor.
Dr. Janet F. Smith, president of Columbia State Community College, said that the partnership was a strong example of Tennessee institutions working together to benefit students.
"We are excited about this new opportunity for our students and staff," Smith said. "I believe this partnership will benefit our graduates, especially our adult students who understand the delicate balance between life, work and school. Alternative formats, such as the online programs offered by WGU Tennessee, will increase accessibility for many of our graduates to obtain their bachelor's or master's degree."
WGU Tennessee was created, as part of Gov. Haslam's "Drive to 55" effort, to fill a gap in the state higher education system by providing a solution for working adults who want one-on-one support and need 24/7 access to their course materials. The university, which offers 50-plus accredited degree programs, has been lauded by national education experts for its competency-based approach to learning, which allows students to advance in their degree programs when they demonstrate mastery of course materials, allowing them to move quickly through material they already know so they can focus on what they still need to learn.
Columbia State graduates and staff that apply to attend WGU Tennessee can begin their terms on the first day of any month, and graduate as soon as they are able to complete all the required coursework.
Columbia State is a two-year college, serving a nine-county area in southern Middle Tennessee with locations in Columbia, Franklin, Lawrenceburg, Lewisburg and Clifton. As Tennessee's first community college, Columbia State is committed to increasing access and enhancing diversity at all five campuses. Columbia State is a member of the Tennessee Board of Regents, one of the largest higher education systems in the nation. For more information, please visit www.columbiastate.edu.
Tennessee's Community Colleges is a system of 13 colleges offering a high-quality, affordable, convenient and personal education to prepare students to achieve their educational and career goals in two years or less. We offer associate degree and certificate programs, workforce development programs and transfer pathways to four-year degrees. For more information, please visit us online at
tncommunitycolleges.org
.
# # #