Apr 15, 2014
ARRI Alexa Training Now Offered Through Film Crew Technology Program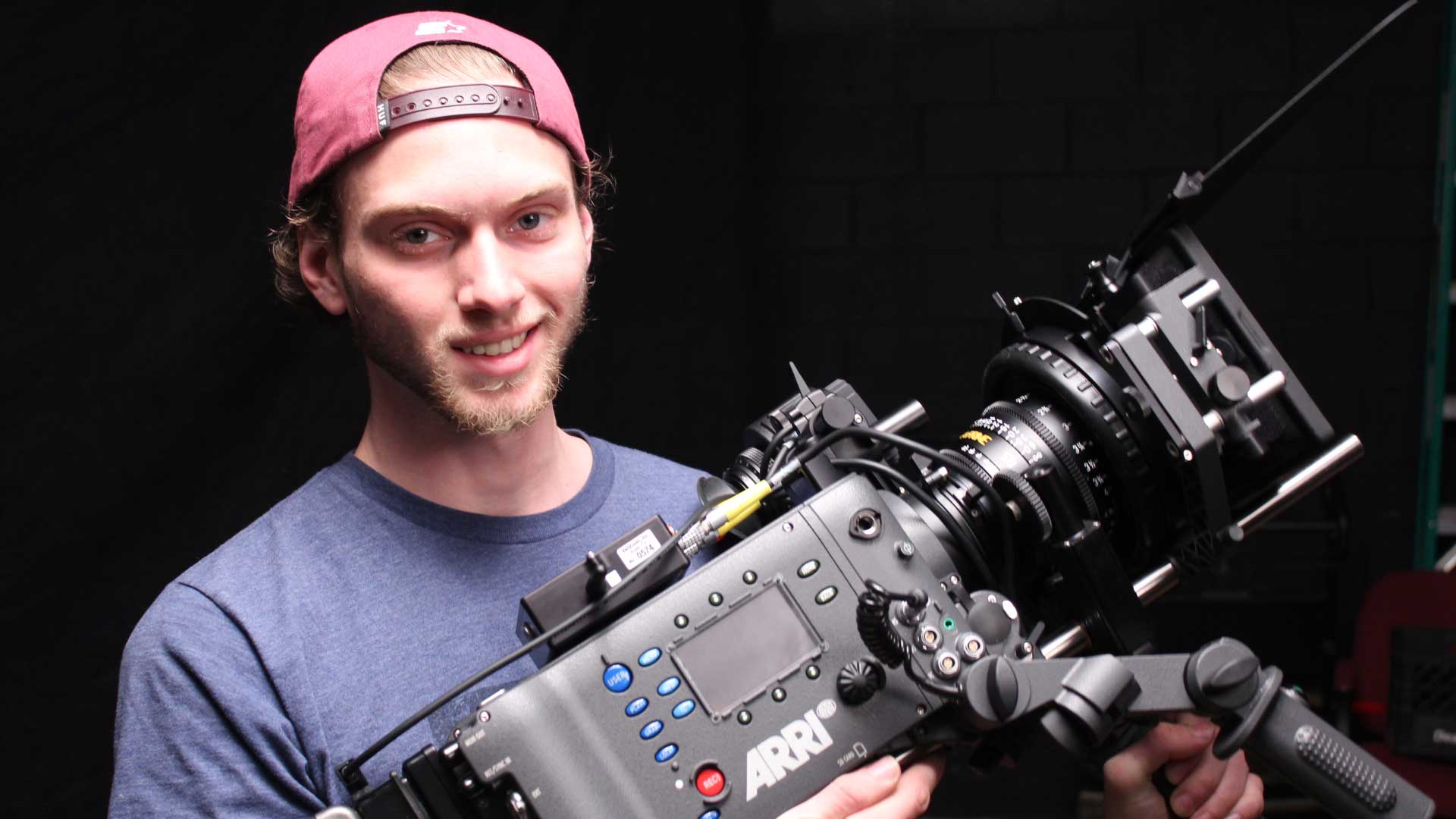 Photo Caption:
Eric Lentz poses with "Sarah," in honor of Sarah Elizabeth Jones, the second assistant cameraman who lost her life in a fatal train accident in February. Pictured (left to right): Sarah (ARRI Alexa camera, Munich, Germany) & Eric Lentz (Lynchburg, Va.). Photo credit: Preston Phillips.
(COLUMBIA, Tenn. - April 15, 2014) - - - Students in Columbia State Community College's film crew technology program are taking their film making skills to the next level this semester now that they have acquired the ARRI Alexa camera.
"The ARRI Alexa is one of the highest camera technologies in the world," said Read Ridley, program director and instructor of the film crew technology program.
Ridley added that the Alexa was introduced in 2010 and has made such an impact on the industry that film cameras are no longer produced anywhere in the world. The Alexa has been used to film movies such as "Skyfall," "Gravity," "Life of Pi," "Iron Man 3," and "Captain America: The Winter Soldier," as well as television shows such as the first season of "Nashville."
"The reason we needed this camera is because this is where the future of motion picture production is going," Ridley said. "The Alexa produces a clear, true image, and more motion pictures and television shows are now shot on the Alexa than any other camera."
Due to the rapid changes in technology, few technicians have been trained to use the Alexa. Currently, Columbia State is one of only three colleges in North America to use the Alexa to train undergraduate students.
"We were fortunate enough that we've had such success with the program that the college provided the funding to acquire this technology so we could start incorporating it into our training," Ridley said.
Ridley and his crew named their new Alexa "Sarah," in memory and honor of Sarah Elizabeth Jones, a second assistant cameraman who tragically lost her life in a train accident while on the set of the independent film, "Midnight Rider," a biopic about Gregg Allman starring William Hurt. The fatal February 2014 accident was the result of cutting corners on set, which has led to an industry-wide campaign for more attention to safety on movie sets.
"The film industry is a relatively small, close-knit family," Ridley said. "We elected to name our Alexa "Sarah" in her honor, because it was a camera she was very familiar with while working in the field. We never had the opportunity to work with Sarah, but we want to make sure such a wonderful spirit is never forgotten and will always be with us on set."
Recognized across the state of Tennessee for their professionalism and knowledge, Columbia State's FCT students will continue to have the competitive edge to find work in the industry. With the shortage of trained technicians in Tennessee, Ridley commented that his placement rating is high, and his enrollment has increased approximately 125 percent since the program began six years ago.
"Columbia State's Film Crew Technology program has given me the tools to be successful in the field," said Preston Phillips, FCT graduate and instructional assistant. "It has also shown me how to carry myself as a working professional in today's motion picture industry."
After completing the program at Columbia State, including 180 hours interning in the field, film crew technicians are qualified to go into the industry and apprentice for a year, after which they can work as a second assistant cameraman and be well on their way to becoming a first.
The FCT program is a high-intensive 12-month certificate program instructed on a California Industry Standard. Students in the program receive training in electrical (lighting), grip, art department, HD cinematography, sound and post-production and non-linear editing using Final Cut Pro.
"This program at Columbia State is extraordinary, turning out first-rate, work-ready technicians who will be the red carpet Oscar winners of the future in directing, cinematography, lighting and sound design. Mark my words, it will happen," award-winning journalist and documentary filmmaker Demetria Kalodimos said at a Tennessee Board of Regents December board meeting.
Since 2009, students and graduates of the FCT program have worked on every major film production in Tennessee, including ABC's "Nashville." The program has also earned more than 14 awards in the 48Hrs Film Challenge including Best in Genre, Best Cinematography Overall, and Audience Award, and they have been the main crew on movies such as "Red Rose of Normandy," "Code 207," and "Like a Country Song."
Columbia State's is the only program in Tennessee with a professional three-ton grip/electric truck and camera crane. The program is staffed by working motion picture professionals and features the latest technology and techniques.
Classes begin in August and are limited to 16 people per year. Because of its success, the FCT program is adding an evening program beginning this fall, opening the program to an additional 16 students per year.
The FCT program is located at Columbia State's Williamson County campus. Anyone interested in applying to the program should contact Ridley at (615) 790-4410 or visit www.ColumbiaState.edu/FilmCrew.
Photo Caption: Sed Lanis, Kate Slavik and Eric Nilsen are members of the 2013-2014 film crew technology program at Columbia State Community College. Pictured (left to right): Sed Lanis (Hendersonville, Tenn.), Kate Slavik (Dresden, Germany), and Eric Nilsen (Leslie, Mich.) Photo credit: Preston Phillips.
Columbia State is a two-year college, serving a nine-county area in southern Middle Tennessee with locations in Columbia, Franklin, Lawrenceburg, Lewisburg and Clifton. As Tennessee's first community college, Columbia State is committed to increasing access and enhancing diversity at all five campuses. Columbia State is a member of the Tennessee Board of Regents, one of the largest higher education systems in the nation. For more information, please visit www.columbiastate.edu.
Tennessee's Community Colleges is a system of 13 colleges offering a high-quality, affordable, convenient and personal education to prepare students to achieve their educational and career goals in two years or less. We offer associate degree and certificate programs, workforce development programs and transfer pathways to four-year degrees. For more information, please visit us online at tncommunitycolleges.org.
# # #