Apr 01, 2014
Student Nurses Donate Easter Baskets to Children in Need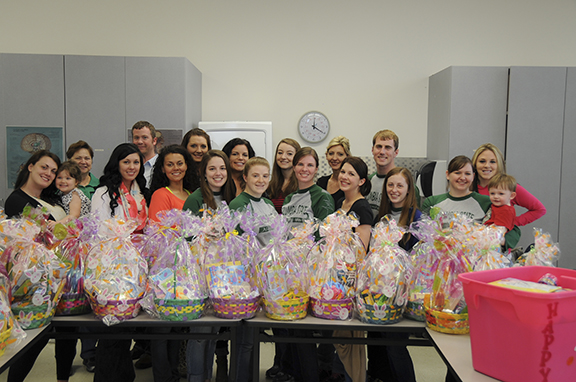 Photo Caption:
Members of the Columbia State Community College Student Nursing Association gathered for fun and fellowship as they prepared Easter baskets for children in need.
(COLUMBIA, Tenn. - March 31, 2014) - - - Members of Columbia State Community College's Student Nursing Association spent Friday morning filling 30 Easter baskets with toys and goodies for their annual community outreach project.
"This is the first year the SNA is donating baskets to the Department of Children's Services in Maury County," said Tia Gibson, SNA president and third semester nursing student. "The children sometimes have to leave with only the clothes they are wearing. Many times they're in an unfamiliar setting, so we want to make them feel a little more comfortable."
Gibson, a Columbia resident, said they plan to deliver 20 baskets to DCS April 11, along with 10 baskets to the Family Center in Columbia. Having received a generous amount of donations from SNA members as well as outside sources, the remainder of the Easter goodies will be sent to the Center of Hope and the pediatrics unit at Maury Regional Medical Center.
"The students in the SNA are not just committed to their program here at Columbia State," said Georgetta Street, SNA adviser and assistant professor of nursing. "They go out of their way to get out into the community as ambassadors for the college."
The SNA seeks to develop the leadership skills of nursing students while preparing them for full participation in the nursing profession. This marks the third year that the SNA has donated baskets to children in need.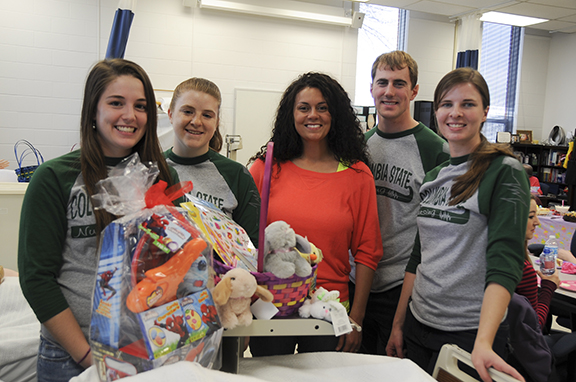 Photo Caption: Officers of the Student Nursing Association include (left to right), Chelsea Goodson (Thompson's Station), treasurer; Jessica White (Williamsport), secretary; Tia Gibson (Columbia), president; Ross Blair (Loretto), vice president; and Emily Cathey (Lynnville), public relations and advertisement.
Columbia State is a two-year college, serving a nine-county area in southern Middle Tennessee with locations in Columbia, Franklin, Lawrenceburg, Lewisburg and Clifton. As Tennessee's first community college, Columbia State is committed to increasing access and enhancing diversity at all five campuses. Columbia State is a member of the Tennessee Board of Regents, one of the largest higher education systems in the nation. For more information, please visit www.columbiastate.edu.
Tennessee's Community Colleges is a system of 13 colleges offering a high-quality, affordable, convenient and personal education to prepare students to achieve their educational and career goals in two years or less. We offer associate degree and certificate programs, workforce development programs and transfer pathways to four-year degrees. For more information, please visit us online at tncommunitycolleges.org.
# # #