Apr 01, 2014
Columbia State Visits Huntsville Space Center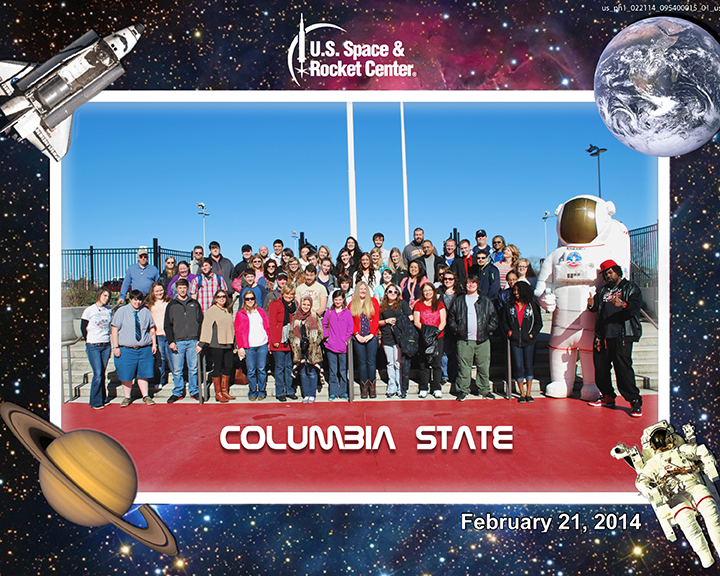 Photo Caption:
Approximately 50 Columbia State students from several different majors made the trip to explore the U.S. Space & Rocket Center, which included rides and a rock climbing wall.


(COLUMBIA, Tenn. - April 1, 2014) - - -
Sixty-two Columbia State Community College students, faculty and staff took a field trip to the U.S. Space & Rocket Center in Huntsville, Ala. to see the traveling exhibit, "Da Vinci: The Genius."
"This fascinating exhibition captured and showcased not only the mind of a genius, but the fundamental scientific and artistic principles that he discovered," said Andrew Wright, instructor of mathematics and STEM Club adviser. "This was a worth-while experience and opportunity for students to explore the origins of these inventions and be engaged with their Columbia State peers."
The comprehensive exhibit featured Leonardo da Vinci as an inventor, artist, scientist, anatomist, engineer, architect, sculptor, and philosopher, and it was applicable to most campus disciplines, including art, math, biology, anatomy, and engineering.
For the exhibit, Italian artists crafted interactive and life-size versions of Da Vinci's art and inventions for display, including the first concepts of a car, bicycle, helicopter, glider, parachute, scuba, submarine and military tank. The exhibit also included an analysis of the iconic Mona Lisa painting and a true-to-size high definition recreation of The Last Supper.
Wright said he received a lot of positive feedback about the trip from many of the students who were in attendance. Students sent him several comments, such as:
"I had an amazing time at the Da Vinci exhibit. To be able to see first-hand the genius behind such marvelous inventions that were well ahead of his time was awe inspiring," said Shannon Gilmore, sophomore psychology major. "I also loved the unveiling of the different phases of the Mona Lisa through digital photography. Anyone who missed the opportunity to share in this experience missed more than they realize."
"The trip was wonderful, and it was a great opportunity to get away and see new things while enjoying the company of my classmates," said Ivan Jones, a sophomore business management major. "Seeing and interacting with the exhibits was all worth the while and I would love to do more activities like this while at Columbia State."
"The Da Vinci exhibit itself was fascinating," said April Grippo, sophomore civil engineering major. "I had studied the emergency bridge in physics class, so it was amazing to see a life-size structure that could have been used to cross a stream. I was especially impressed that Da Vinci documented so many innovative designs that are still applicable today, such as the Humvee, the tank, the water wheel, and the scuba apparatus."
Home to Space Camp® and Aviation Challenge® Camp, the USSRC is the most comprehensive U.S. manned spaceflight hardware museum in the world, serves as the Official NASA Visitor Center for Marshall Space Flight Center, and is an affiliate of the Smithsonian Institution.
The field trip was hosted by Columbia State's STEM Club, in conjunction with the student services department.
Columbia State is a two-year college, serving a nine-county area in southern Middle Tennessee with locations in Columbia, Franklin, Lawrenceburg, Lewisburg and Clifton. As Tennessee's first community college, Columbia State is committed to increasing access and enhancing diversity at all five campuses. Columbia State is a member of the Tennessee Board of Regents, one of the largest higher education systems in the nation. For more information, please visit www.columbiastate.edu.
Tennessee's Community Colleges is a system of 13 colleges offering a high-quality, affordable, convenient and personal education to prepare students to achieve their educational and career goals in two years or less. We offer associate degree and certificate programs, workforce development programs and transfer pathways to four-year degrees. For more information, please visit us online at tncommunitycolleges.org.
# # #