Mar 28, 2014
Columbia State Hosts Annual Career And Technical Fair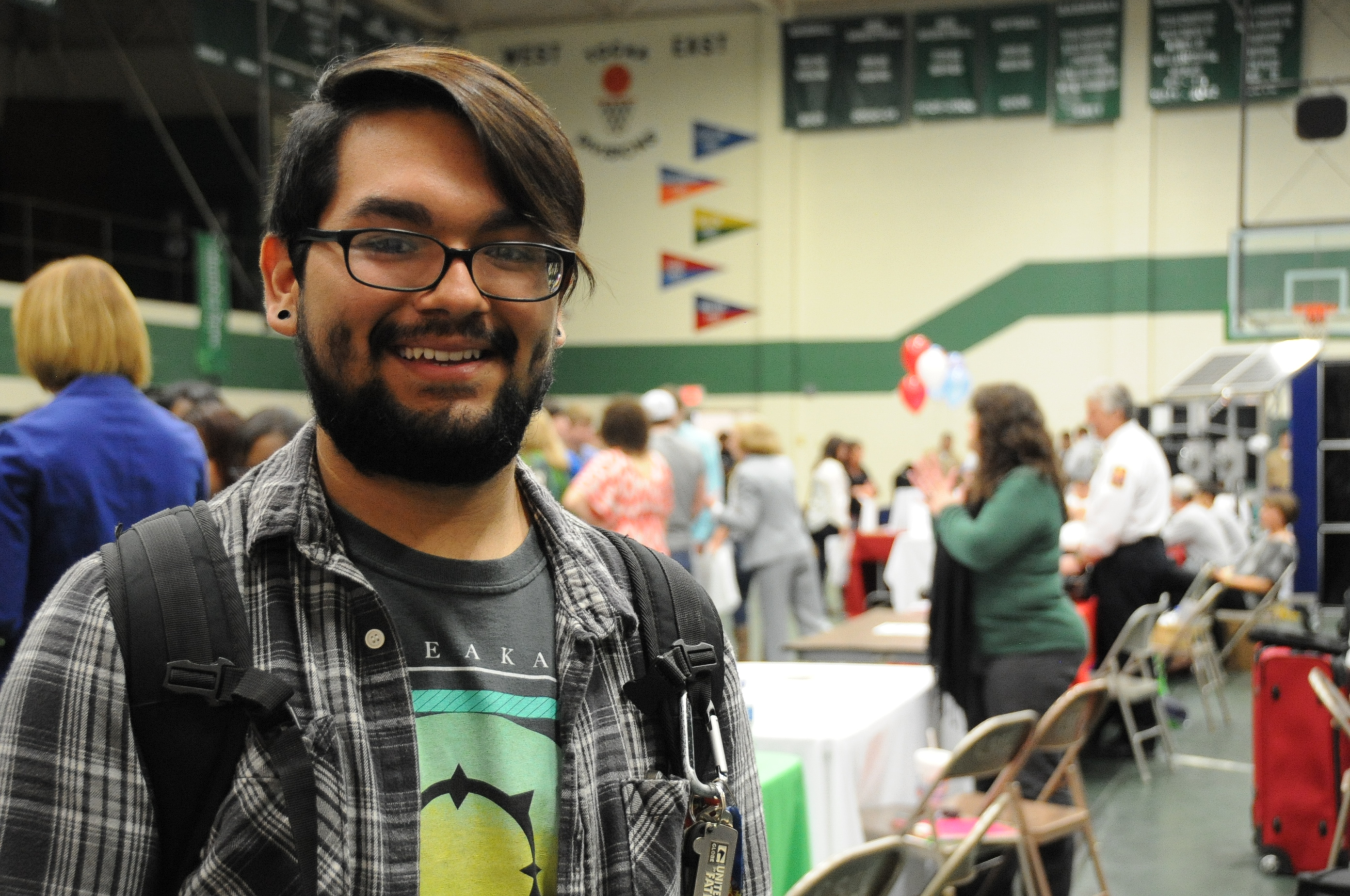 Photo Caption: Steven Salazar, a senior at Hickman County High School said, "I felt like this event was very helpful for everyone who doesn't know what they want to do. They got to see a lot of fields that they don't normally get to see, so it's really cool." Salazar said he plans to enroll in the film crew technology program at Columbia State this fall.

(COLUMBIA, Tenn. - March 28, 2014) - - - Nearly 600 high school seniors were in attendance March 11 for Columbia State Community College's annual Career and Technical Training Fair, held in partnership with Tennessee College of Applied Technology in Hohenwald and Pulaski, Maury County Public Schools, the South Central Tennessee Career Center, and McDonald's.
The event featured an introductory session that included speakers from the Career Center, IBEX Global in Spring Hill, Legends in Columbia, and the College and Community Mentoring Initiative and EMT departments at Columbia State. The speakers provided insight and spoke about the various careers available in a variety of fields, including customer service, entrepreneurship and health sciences.
"We want to open the students' eyes to the many educational and career opportunities available to them," said David Ogden, Columbia State director of recruitment and admissions. "We want to help them decide what their next step is going to be."
Ogden, who organized the event this year, said he received a lot of positive comments from the student survey that was conducted. Some of the responses included, "I learned about many different jobs that I had no clue about," "As long as you are focused, you can do anything you set your mind to," and "Now I can go to college with a purpose."
High schools from Maury, Perry, Giles, Hickman, and Lewis Counties were in attendance for the event that was designed for seniors who haven't yet decided what to do after they graduate in May.
"The career fair has helped a lot because I had no idea what to do," said Jeffrey Davis, a senior from Culleoka. "I needed somewhere to get my feet wet, so today has put me in the right direction of where I need to start walking."
Davis said he still has to make his final decision but is leaning toward going to Columbia State or one of the TCAT locations to continue his education.
The fair featured a variety of department booths from both Columbia State and the TCATs, along with booths sponsored by the Career Center, the Columbia Fire Department, IBEX Global, Maury Regional Medical Center, Nossi College of Art, O'More School of Design, military branches and many others.
Although the event has been limited to high school seniors, Ogden said it's possible that they may open the fair to high school juniors in the future in order to create and increase interest from students earlier.

Photo Caption: Deputy Bucky Rowland of the Maury County Sherriff's Department and his dog Shady gave a K-9 demonstration to students at the 2014 Career and Technical Training Fair.
Columbia State is a two-year college, serving a nine-county area in southern Middle Tennessee with locations in Columbia, Franklin, Lawrenceburg, Lewisburg and Clifton. As Tennessee's first community college, Columbia State is committed to increasing access and enhancing diversity at all five campuses. Columbia State is a member of the Tennessee Board of Regents, one of the largest higher education systems in the nation. For more information, please visit www.columbiastate.edu.
Tennessee's Community Colleges is a system of 13 colleges offering a high-quality, affordable, convenient and personal education to prepare students to achieve their educational and career goals in two years or less. We offer associate degree and certificate programs, workforce development programs and transfer pathways to four-year degrees. For more information, please visit us online at tncommunitycolleges.org.
# # #