Feb 20, 2014
Sixth Annual Maury County Choral Festival Features Columbia State Choir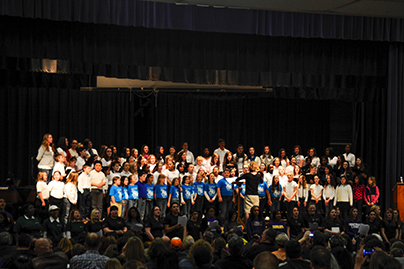 Photo Caption:
Columbia State Community College choir members and students from area elementary, middle and high schools perform "We Are the World" at the 2013 Maury County Choral Festival held at Columbia Central High School.
(COLUMBIA, Tenn. - Feb. 20, 2014) - - - Columbia Central High School will host the Columbia State Community College choir at the 6th Annual Maury County Choral Festival on Thursday, Feb. 27 at 6 p.m. The event will also feature elementary, middle and high school choral programs throughout Maury County.
"This year's festival will have a patriotic theme," said Emily Gaskill, Columbia State choir director and associate professor of music. "It lends itself well to the mass choir performance during the program's finale."
Each participating choir in the festival will perform several choral pieces chosen by their individual choral directors. Members of the Columbia State chorus will join Columbia Central's choir for a selection of choral pieces.
Participating in this year's choral festival are Randolph Howell Elementary School, under the direction of Sandi Sanders Wilson; Mt. Pleasant Elementary School, directed by Jill Butler; Highland Park Elementary School, directed by Holly Sanders; Mt. Pleasant Middle School, under the direction of Jill Butler; Culleoka Unit School, directed by Kim Sutton; Columbia Central, under the direction of Susan Manning; and Spring Hill Middle School, directed by Greg Walton.
Spearheaded by Gaskill, Sanders Wilson and Manning, the event has grown in numbers over the past few years and is an opportunity for area choirs to get together and share their talents with each other and with the community at large.
Columbia Central is located at 921 Lion Parkway in Columbia. The event is sponsored by the Lyceum Committee, in conjunction with the music department at Columbia State. The event is free and open to the public.
Columbia State is a two-year college, serving a nine-county area in southern Middle Tennessee with locations in Columbia, Franklin, Lawrenceburg, Lewisburg and Clifton. As Tennessee's first community college, Columbia State is committed to increasing access and enhancing diversity at all five campuses. Columbia State is a member of the Tennessee Board of Regents, the sixth largest higher education system in the nation. For more information, please visit www.columbiastate.edu.
Tennessee's Community Colleges is a system of 13 colleges offering a high-quality, affordable, convenient and personal education to prepare students to achieve their educational and career goals in two years or less. We offer associate degree and certificate programs, workforce development programs and transfer pathways to four-year degrees. For more information, please visit us online at tncommunitycolleges.org.
# # #