Oct 16, 2013
Columbia State's Bremers Committed To North Carolina A&T for Fall 2014
(COLUMBIA, Tenn. - Oct. 15, 2013)
- - - Columbia State Community College's Arturs Bremers recently committed to play basketball at North Carolina Agricultural and Technical State University next fall.
"I am very excited for Arturs and his commitment to North Carolina A&T," said Brian Collins, Columbia State head basketball coach. "A&T is getting a great player and a Class A person."
Collins commented that Bremers excels on the floor and was last year's leading scorer for the Chargers. The 6'4" shooting guard boasts a 4.0 GPA and was chosen as an All-Conference and All-Academic performer for 2012 - 2013.
"Coach Collins encourages me to do my best and helps me work on my strengths and weaknesses," Bremers said. "I am happy and feel safe knowing that I have a school to go to next year."
The 21-year-old Republic of Latvia native began playing basketball at the age of nine. He moved to Phoenix, Ariz. to finish his last two years of high school where he played basketball for Westwind Preparatory Academy.
Bremers will graduate from Columbia State in the spring with an associate degree. He plans to major in construction management after he transfers.
Collins noted that the sophomore is the second player in two years to be recruited by the Greensboro, N.C. university. Former Charger Bryan Akinkugbe graduated in May 2013 and began his studies at NCAT this fall.
"I am very close to their staff," Collins said. "I am sure they have Bremers best interest at heart."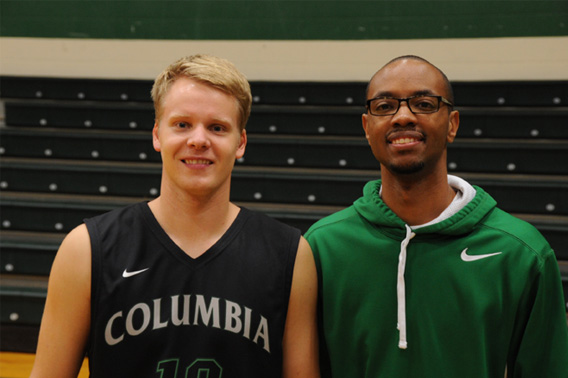 Photo Caption:
Pictured left to right: Arturs Bremers and Brian Collins.
Columbia State is a two-year college, serving a nine-county area in southern Middle Tennessee with locations in Columbia, Franklin, Lawrenceburg, Lewisburg and Clifton. As Tennessee's first community college, Columbia State is committed to increasing access and enhancing diversity at all five campuses. Columbia State is a member of the Tennessee Board of Regents, the sixth largest higher education system in the nation. For more information, please visit
www.ColumbiaState.edu
.