Oct 03, 2013
Soroptimist Scholarship Benefits Williamson County Women
(COLUMBIA, Tenn. - Oct. 1, 2013)
- - - The Columbia State Community College Foundation was presented a $6,000 scholarship check from Soroptimist International of Franklin at its Sept. 17 meeting.
"The Soroptimists are women helping women and young girls achieve their goals and be successful," said Dr. Janet Smith, Columbia State president. "Their leadership and generosity helps women achieve their educational goals and empower them to make a difference in their community and the lives of others."
The scholarship was established to benefit students who live in Williamson County. The scholarship assists women who, either financially or by family situation, would not otherwise be able to complete a higher education degree and establish themselves in the workforce of their community. There were six recipients of the 2013-2014 Franklin Soroptimist Scholarship.
"It is a pleasure for Soroptimist International of Franklin to be able to present a check to Columbia State to help fund scholarships for deserving women," said Ginna Campbell, Soroptimist International of Franklin president.
Soroptimist is an international organization for business and professional women who work to improve the lives of women and girls in local communities and throughout the world. Scholarship funds were raised through the Stables and Silks Kentucky Derby Party held in May, an annual event that also benefits the Bridges Domestic Violence Center in Franklin.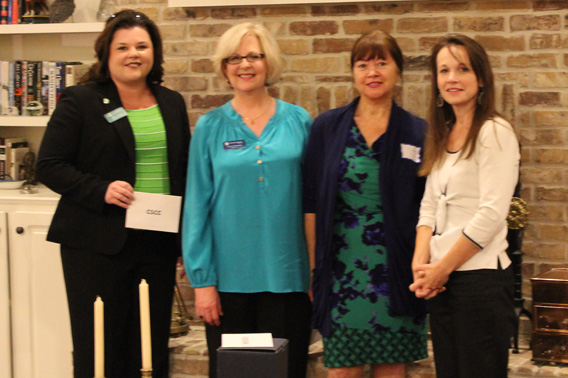 Photo Caption:
Pictured left to right, Molly Cochran, Columbia State development officer for alumni and community relations and events; Ginna Campbell, Soroptimist International of Franklin president; Cindy Sargent, Soroptimist International of Franklin vice president; and Carmen Snider, 2013 Soroptimist of Franklin Scholarship recipient.
Columbia State is a two-year college, serving a nine-county area in southern Middle Tennessee with locations in Columbia, Franklin, Lawrenceburg, Lewisburg and Clifton. As Tennessee's first community college, Columbia State is committed to increasing access and enhancing diversity at all five campuses. Columbia State is a member of the Tennessee Board of Regents, the sixth largest higher education system in the nation. For more information, please visit
www.ColumbiaState.edu
.