May 31, 2013
Columbia State - MTSU Pact Helps Early Childhood Education Majors Earn 4-Year Degrees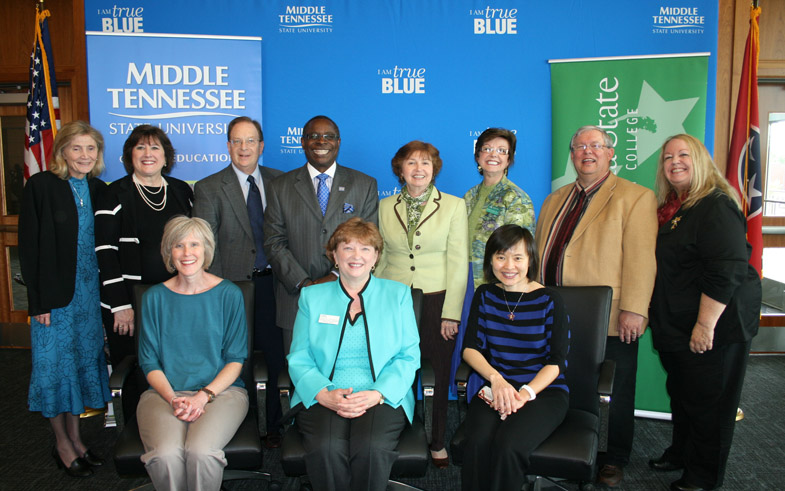 Photo Caption: Columbia State Community College and MTSU officials celebrate the May 2 signing of a new dual enrollment agreement that will help transfer students with associate degrees earn their bachelor's degrees in early childhood education at MTSU. Shown are, seated, from left, Dr. Robin Ridgely, program coordinator for MTSU's Early Childhood Education Program in the Department of Elementary and Special Education; Debbie Simpson, director of the Tennessee Early Childhood Training Alliance; and Dr. Jane Lim, assistant professor of education at MTSU. Standing are, from left, Dr. Kathleen Burriss, interim chair of MTSU's Department of Elementary and Special Education; Dr. Lana Seivers, dean of the College of Education at MTSU; Dr. Brad Bartel, MTSU provost; MTSU President Sidney A. McPhee; Columbia State President Janet F. Smith; Dr. Margaret Smith, Columbia State executive vice president and provost; Gene Humphrys, dean of Columbia State's Humanities and Social Sciences Division; and Marian Warren, director of Columbia State's Early Childhood Education Program. (MTSU photo by J. Intintoli)
(MURFREESBORO, Tenn. - May 2, 2013) - - -
An agreement signed today between Columbia State Community College and Middle Tennessee State University will help students majoring in early childhood education turn their associate degrees into bachelor's degrees at MTSU's Murfreesboro campus.
The agreement will bring more Columbia State transfer students to MTSU by easing their access to the Bachelor of Science degree program in early childhood education at the 4-year institution.
Columbia State President Janet F. Smith and MTSU President Sidney A. McPhee formally signed the agreement today inside MTSU's Student Union.
"This partnership exemplifies the initiatives of the state of Tennessee, the Tennessee Board of Regents system and our colleges to increase access to educational opportunities and degree completion," said Smith.
"We are committed to the success of our students, and this agreement provides a pathway for students to seamlessly transfer as they pursue their dreams and future."
McPhee noted that his institution's "continued partnership with Columbia State takes another step forward with the signing of this agreement."
"This pact underscores our devotion to student success and our shared resolve to help produce more college graduates for the state's workforce," he added.
Today's effort comes just six months after Columbia State and MTSU signed a pact allowing nursing students to complete their associate degree and transfer to MTSU to complete a Bachelor of Science in Nursing. That partnership, announced last November, even includes special career assistance from the Maury Regional Medical Center in Columbia, Tenn.
Today's arrangement provides special advising services for Columbia State transfer students and encourages academic and administrative coordination between the institutions.
This new agreement outlines the courses a student would need to take to complete their associate degree at Columbia State and the upper-division MTSU courses the student would need to complete in order to obtain their bachelor's degree. Transfer students also must meet normal MTSU admissions requirements, officials said.
Marian Warren, program director and assistant professor of early childhood education at Columbia State, said she looks forward to what students can accomplish with the new agreement.
"I've been working toward this goal since we established our program 13 years ago, and I'm so excited for our students today," Warren said. "This will give our students the venue they need to become great professionals."
Dr. Kathleen Burriss, interim chair of MTSU's Department of Elementary and Special Education, said faculty and staff are "very excited" about the new opportunity to teach more Tennessee teachers.
"We're just delighted, because this agreement provides a seamless transition for our community college candidates to come right into the university. It also gives us a wonderful opportunity to work with our cohorts at Columbia State. It's just a reasonable way to do things."
Columbia State is a two-year college, serving a nine-county area in southern Middle Tennessee with locations in Columbia, Franklin, Lawrenceburg, Lewisburg and Clifton. As Tennessee's first community college, Columbia State is committed to increasing access and enhancing diversity at all five campuses. Columbia State is a member of the Tennessee Board of Regents, the sixth largest higher education system in the nation. For more information, please visit
http://www.columbiastate.edu
.