Candace Warner Visits China - Blog 1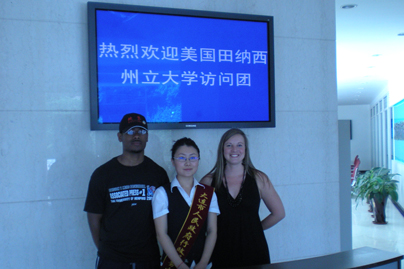 Candace Warner, Columbia State's Assistant Professor of Sociology, traveled to both Beijing and Dalian, China for three weeks during May and June. Candace is completing her Ph.D. in Public Administration from the College of Public Service and Urban Affairs at Tennessee State University. Although Warner completed all required course work, as well as doctoral preliminary exams during the spring 2009 semester, she decided to enroll in a summer course—Comparative Studies in Sino-U.S. Public Administration—for the opportunity to study economic development and governance in China.
Photo caption: This sign says "Welcome Tennessee State University" in Chinese. Raphael Smith and Candace Warner pose with a government representative at this government center in the city of Dalian, China.
Below is the first of three blog entries from her trip...
China Blog 1: How I Landed In China
This August, I embark on my sixth year of teaching at Columbia State Community College. I often marvel at the path that led me to Columbia State, my journey as an instructor, and the opportunities I have been afforded as a result of my employment here.

Growing up hearing stories from an aunt and a cousin who taught in the public school system, I did not set out to teach—in fact, I practically swore against it. I embarked on teaching because of my brother, and his teaching career began in China. After teaching there for a year, my brother encouraged me to try teaching –he said I would love it. Turns out--he was right. The irony is not lost on me that my teaching career has brought me full circle to one of the most rewarding experiences I have ever had in my life—traveling to China, just as my brother did over 9 years ago. However cliché—I suppose it's fate, it's destiny—my brother teaching in China is what led me to teaching in the first place. In turn, the place where I teach, is what afforded me the opportunity to travel to China myself and learn about China's economic development, government system, and culture. The subject of this series of blogs is my trip to China during May and June of 2009, but first, I will try to provide the 'short version' of how I got on the plane in the first place….

My first love as a child was music. Yes, I was the girl who would give hairbrush concerts in her bedroom or make music videos to a variety of Whitney Houston songs—Whitney's "Didn't We Almost Have it All" was my best work, if I do say so myself. While my family would watch movies or do other things, I would retreat to my room and sing, and sing, and sing. I spent my childhood and teenage years singing, but I also had another love—reading about social issues, although at the time, I did not refer to the books that captivated me as "social issue" books. When I was 11, I read Kaffir Boy by Mark Mathabane, a story about a boy growing up in South African apartheid. Around the same time, I read Roll of Thunder, Hear My Cry by Mildred Taylor--the story of a young African American girl growing up in Mississippi during the Depression in the 1930s. For an 11 year old White girl, it was probably a little unusual for my parents that I was so intrigued, and simultaneously saddened, by tales of racial inequality. It was not until 10 years later that I realized there is a name for people interested in issues like this—sociologists.

My father, who inspired my love of reading, would also encourage me to read articles from The Wall Street Journal or Forbes magazine. He saw me being the CEO of a company one day or leader of the free world. Probably a surprise to some, it was my father who first instilled in me that women could be anything. And with my own mother being an example of a woman who has faced enormous adversity and still helps others selflessly, it only stood to follow that I would have a great interest in gender issues. So when my students notice this about me…I always tell them they can blame my dad first. It usually elicits at least a small chuckle.

Fast forward to college…I attended Mississippi University for Women, majored in music, and minored in business. Since singing and music were my first loves, it only made sense that I would choose this path first. I served as Student Government Association President and traveled on a regular basis with our university president at the time—Dr. Clyda Rent. She was an inspiration to me, and I wanted to be just like her. When I found out that all of her degrees were in sociology and I needed one more social science elective my senior year, I took a sociology course at "The W"—it was an 8:00 a.m. class. I didn't miss a day and was never late (which for me, is quite the feat). All of a sudden my passion for social justice—racial, gender, and economic injustice—found a home in sociology. I had found my second love. Following my graduation from the "W," I entered graduate school and earned a Master's degree in sociology.

Fast forward to 2003, and I'm teaching sociology full-time at Columbia State and loving every second of it. Teaching sociology at Columbia State has been the most rewarding, yet, most all-consuming job I have ever had. I love teaching, I love my students, I love sociology, and I love working at Columbia State. And I'm not just saying that--it's true.

While teaching sociology at Columbia State and serving as the lead faculty for the sociology department, I have also been working on my Ph.D. since 2004. I have slept little, eaten too many Cheetos at 2 a.m. in front of a laptop, cried from stress, joy and exhaustion, and chatted endlessly to colleagues, friends, and family about the things I've learned in my own sociology classroom and in my Ph.D. classes.

Once I finish the dissertation, my  Ph.D. will be in Public Administration from Tennessee State University. Many people ask me "What is Public Administration?" Good question. Here's the "Candace definition"-- Public administration is a multi-disciplinary academic field that combines the academic disciplines of  sociology, political science, public policy, and business. You learn how to make the world a better place through government, non-profits, and the private sector. I know that everything happened for a reason…I am in this program because I want to address complex social problems through public policies, and it has been a perfect fit for me.

Even though I had just completed the courses required for my degree, last year when I learned that public administration students at TSU would be offered an opportunity for a service-learning trip to China through a comparative studies course, I immediately submitted my application. Before I was even selected to go, my Columbia State colleagues rallied around me to make it happen. Me, along with the other 12 TSU students selected for the trip, began taking a course in May where we learned about China's government and economic development policies. At night, I was learning about China in a classroom, reading books about Chinese culture, government, and their economy. During the day, I agonized over other important things…namely, what I would wear and what beauty products I should take to China (this was silly I know...but I have two personalities—one that cares about serious stuff and the other that cares about frivolous things). Before we even left Nashville and boarded the plane, it was apparent to me and everyone else that I had packed too much for our China experience.

We arrived in Beijing on May 23, 2009 and my journey in China began. And what a wonderful journey it would be.
Candace Warner Visits China
Candace Warner Visits China-Blog Entry #2