Guarantee Program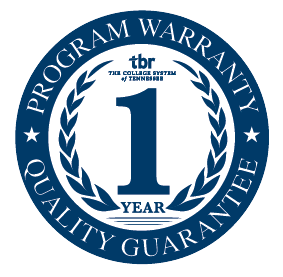 We guarantee the quality of our Technical Programs.
The TBR program warranty represents our System's commitment to the quality of our technical education programs. It assures employers that graduates of our A.A.S. degree programs and completers of credit-bearing diploma programs and technical certificates have the knowledge and skill sets needed to successfully perform job functions. 
Valid for one year immediately following the student's graduation/completion date, the program warranty covers retraining only at no cost to the graduate and employer.
To initiate a warranty claim, the graduate's employer must submit a warranty claim request form to the TBR Office of Economic & Community Development.
Joni Lenig
Vice President for Academic Affairs
Columbia Campus, Pryor 109
931.540.2517